World news story
Ambassador Davidson meets with President of Guatemalan Congress
The British Ambassador to Guatemala, Carolyn Davidson, met with the President of the Guatemalan Congress, Alvaro Arzu.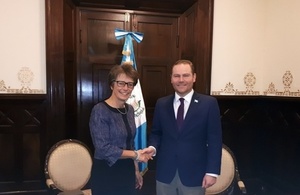 Ambassador Davidson and President Arzu discussed increasing trade and investment, promoting good governance, and countering corruption in Guatemalan institutions.
During the meeting Ambassador Davidson underscored the vast opportunities that Public Private Partnerships (PPP) can offer to improve prosperity. The Ambassador highlighted UK efforts to develop PPP as a model that could help support economic development in Guatemala. Later this month, two British experts will visit Guatemala to meet with Congressmen and discuss this idea further.
The Ambassador welcomed the renewed attention of President Arzu on promoting trade and investment, and called for a close joint working relationship in order to increase commerce between the UK and Guatemala. This has become increasingly important in light of Britain's decision to leave the European Union and our shared desire to maintain the strong existing links between the two economies.
Finally, Ambassador Davidson and President Arzu discussed the importance of democracy in Guatemala. Congress has an important role in modifying or creating laws, while still respecting the fundamentals of good governance, transparency, and individual respect for human rights and the rule of law. The fight against corruption is a UK priority and we will continue working with state institutions, including Congress, on this challenge.
Published 1 March 2018