World news story
Ambassador Clive Alderton opens TEDx in Morocco
'Looking on the Bright Side' Ambassador Clive Alderton opened TEDx this year with a talk on inter-religious tolerance and openness.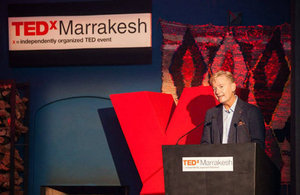 Her Majesty's Ambassador to the Kingdom of Morocco, HE Mr Clive Alderton, gave a TEDx talk on 28 February in Marrakesh. The talk explored how religion – when properly understood and practiced – is about belief as well as behaviour and the ability to bridge differences. The talk was also an opportunity for the Ambassador to share his views on what makes Morocco such a rich and tolerant melting pot of cultures and religions, and coming back to our own neighbourhoods, how we can all, through our own actions and behaviour, be part of building a more connected, tolerant world.
Ambassador Clive Alderton TEDxMarrakesh talk
About TEDxMarrakesh:
TEDxMarrakesh is part of the TEDx series of talks which are held around the world. These talks bring inspirational people from around the world to share their experiences. This gives the audience an aspiration of how their successes and ideas could be useful in other communities.
Published 10 April 2015