World news story
Ambassador Carter travels to Quetzaltenango
On September 12-14 British Ambassador to Guatemala Thomas Carter visited Quetzaltenango to advance UK engagement in Western Guatemala and commitment to supporting free trade, human rights and the fight against corruption.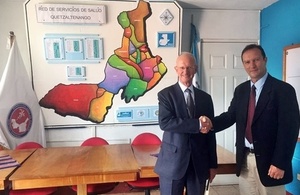 While in the country's second largest city, Ambassador Carter met with Congressmen Juan Carlos Salanic and Pedro Mendez to highlight the importance of our growing bilateral relationship and congratulate their efforts on supporting legislative initiatives aimed at boosting transparency and abolishing the death penalty.
In addition, the Ambassador met with the Governor, Claudia Avila; and the Mayor, Luis Grijalva, to discuss the potential Quetzaltenango might pose to British investors as a strategic enclave which connects Guatemala with southern Mexico. They also addressed the opportunities sectors such as energy and tourism could bring to the city.
Ambassador Carter also supervised the field work some British organizations such as Health Poverty Action are undertaking in Quetzaltenango. He endorsed their leading work on sexual and reproductive health and welcomed the support provided by the authorities in Quetzaltenango to address this and other pressing social issues.
Finally, Ambassador Carter met with representatives of the Chamber of Commerce, the National University Western Centre (USAC – CUNOC) and other prominent representatives of Quetzaltenango's society to underscore UK support for the department's efforts to achieve a lasting development that will bring greater security and prosperity to its citizens.
To mark his first visit to Quetzaltenango, Ambassador Thomas Carter, said:
Quetzaltenango is important to us and the work of the British Embassy in Guatemala. My main message whilst here was that Britain is committed to working with our international partners like Guatemala, fully playing our part in ensuring a safer, healthier and more prosperous world. We look forward to visiting Quetzaltenango again.
Published 16 September 2016