World news story
Ambassador Brenton and King Albert II at HMS Vindictive ceremony
The memorial of HMS Vindictive was relocated to Ostend in the presence of Belgian King Albert II and Ambassador Brenton.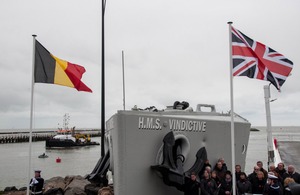 The City of Ostend has relocated a highly esteemed memorial, the bow of Her Majesty's Ship (HMS) Vindictive during a ceremony attended by Belgian King Albert II and his wife, Queen Paola.
This ship was sunk in the harbour during the night of 9 to 10 May 1918 as the British attempted to block the Ostend harbour to prevent German submarines from accessing the North Sea from their operating base in Bruges. The raid cost the lives of 8 British servicemen with 10 missing and 29 wounded. It has now been restored and relocated close to where the ship was originally sunk where it will begin a new life and become one of the points of interest on the walking and cycling tours of the First World War.
During his speech British Ambassador to Belgium Jonathan Brenton welcomed the presence of King Albert II:
Your presence Sire reminds me of the great contribution of the Belgian King your ancestor, Albert the First in the First World War, a courage which drew friendship and admiration in the United Kingdom and elsewhere, including from British King George.
Ambassador Brenton also thanked the audience and fellow ambassadors:
It is always touching to me to see the public commitment made by people in Belgium to our shared history. A shared history which is not just about the past but a celebration of friendships and alliances which continue to this day. Even though this is a very British memorial, we also remember a war where many nations fought and suffered side by side: Canadians, Australians, New Zealanders, Americans, Belgians and many others. In the spirit of generosity we should also remember the Germans who died here. Thanks to the sacrifices of previous generations we live in a better Europe, where democratic nations are at peace and Germany, an anchor nation of the European Union, is our friend.
This inauguration is one of many First World War commemorations supported by the British Embassy in Belgium throughout the year. As Prime Minister David Cameron has said regarding the 2014 to 2018 centenary commemorations of the First World War:
Our duty with these commemorations is clear: to honour those who served; to remember those who died; and to ensure that the lessons learnt live with us forever. And that is exactly what we will do.
Local and national television stations covered the HMS Vindictive ceremony. You can find these reports at the following links:
Het Nieuwsblad picture special
VTM video in Dutch, interviews in English
VTM video in Dutch, interviews in English
For more information on the work of the British Embassy to Belgium, follow us on Twitter or Facebook
Published 10 June 2013