News story
Alun Cairns: "Welsh job creation from foreign investment underlines Wales' potential to be a real hub of trade and prosperity post Brexit"
Welsh Secretary responds to Foreign Direct Investment figures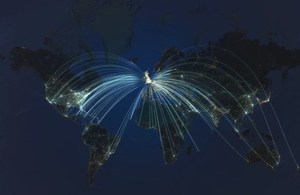 Foreign investors continue to see investment opportunities in Wales as new figures published today by the Department for International Trade showed that international investment created more than 3,000 jobs in Wales in 2017-18 - over 500 more than the previous year.
On a UK level, figures from the Department for International Trade published today showed 2,072 projects were recorded, 75,968 new jobs were created and that 15,063 were safeguarded, amounting to nearly 1,500 new jobs per week across the country.
Wales attracted 57 projects over the period with 3,107 new jobs created. Between 2013-2018 almost 70% of the projects invested in Wales have come from outside the EU.
Overall the UK remained the number one destination for inward investment in Europe, with the wholesale, food and drink, electronics, and infrastructure sectors all seeing an increase in the number of new jobs.
Secretary of State for Wales Alun Cairns said:
The number of jobs created in Wales is a sign of the confidence foreign investors have in our nation. And with almost 70% of projects coming from outside the EU over the last five years, it underlines our potential to be a real hub of open trade and prosperity following our departure from the EU.

The UK Government has played a key role in bringing key investments to Welsh shores. This year alone, Wales has seen a £3 million investment from the Melbourne-based life science firm Medical Ethics, and Toyota's decision to build its next generation Auris vehicle in the UK will have a direct and positive impact on engine production at its Deeside plant.
We have also seen the launch of the first daily flight service between Qatar and Cardiff and the proposed expansion of Heathrow Airport will open yet more inward investment flightpaths for Wales, making our nation as internationally connected as it possibly can be.

But we cannot be complacent. Keeping Wales attractive to overseas investors is hugely important for our future success in a post Brexit world. That is why, over the last year, I have visited Japan, Hong Kong and the Middle East to show the world's business leaders that Wales is an ambitious nation, hungry for success with a progressive and dynamic economy. Our entrepreneurial spirit, our ingenuity, our talent for innovation and the skills of our workforce will help set us apart, and the UK Government will do all it can to promote these leading credentials to the world.
Notes to editors
See the full statistical release here
The department records wider types of inward investment projects including mergers and acquisitions and those that are not publicly announced by foreign investors.
Therefore, the FDI projects figures reported are different from those reported by external organisations, such as EY and FT, who track FDI project flows mostly based on investment announcements.
These external organisations report on calendar year, while the department's statistics are for financial year.
Published 26 June 2018