Alternatives to peat research fund
A new £1 million pot for research to help the gardening industry end its reliance on peat has been announced today by Environment Minister Richard.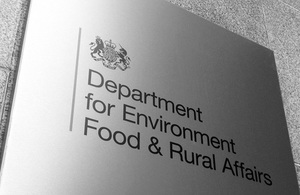 The research funding has been made available as part of the Government's response to a report from an independent Task Force. The Task Force, comprised of retailers, manufacturers and growers, was set up to help the horticulture industry manage the transition from using increasingly scarce supplies of peat to using sustainable growing products such as compost from garden waste.
Environment Minister Richard Benyon said:
Britain is a nation of gardeners but peat is a precious and finite resource and we need to find alternatives for gardening before it runs out.
I'm delighted that the task force has shown us the way forward. The horticultural sector has already made great strides towards reducing its reliance on peat but I want to see more alternatives developed. The research project I'm announcing today should help them do just that.
New Government initiatives to support the task force include:
A £1 million five-year research programme, managed in partnership with the Horticultural Development Company, and half funded by Government to overcome barriers to alternatives to peat and demonstrate the viability of new products;
A £100,000 fund to develop demonstration projects to show the public sector the benefits of using sustainable growing media; and
A new 'Growing Media Panel' under the chairmanship of Dr Alan Knight to oversee and co-ordinate the delivery of plans for the future of the gardening and horticulture industry.
The horticultural industry is over-reliant on peat and the second consecutive poor peat harvest across Europe is predicted to lead to shortages of growing media and increased prices, with peat being imported into the UK from abroad.
The new panel will work with the horticulture industry to come up with a high quality standard for manufacturers to use so that consumers have confidence in the efficacy of new products being developed.
A move to renewable products rather than using finite sources of peat will help businesses to thrive by ensuring their long-term future with a regular supply of growing material for plants.
Notes
The Government Response to the Sustainable Growing Media Task Force is available at:  http://www.defra.gov.uk/publications/2013/01/17/pb13834-sustainable-growing-media/.
In 2009, the last year for which data is available, just under 3 million cubic metres of peat were sold for horticultural use within the UK. Almost 70% of this peat was sold in bagged products (multi-purpose compost, grow-bags, etc) to the retail market.  Just under a third of the peat is sourced from within the UK with the majority of the rest imported from the Republic of Ireland.
The Sustainable Growing Media Task Force http://www.defra.gov.uk/peat-taskforce/ was established in 2011, under the chairmanship of Dr Alan Knight OBE, and submitted its final report and draft roadmap to Defra Ministers in July 2012.
Published 17 January 2013