News story
Alok Sharma visits Philippines
Alok Sharma, the UK's Minister for Asia and the Pacific, is in Manila for three days of talks on trade, prosperity and security in the Philippines.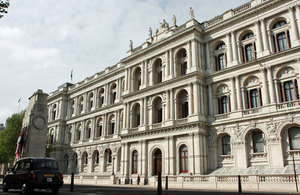 Mr Sharma will meet with Vice President Maria Leonor Robredo and a number of other senior politicians, as well as the British Chamber of Commerce of the Philippines and other business leaders. He will make a keynote speech at the Royal Institution's Global Conference on Good Governance.
The visit comes during a year when the UK and Philippines have been celebrating 70 years since the establishment of diplomatic relations and a continuing strong trade relationship. It follows shortly after the visit of the Prime Minister's Trade Envoy Richard Graham in August. Exports of UK goods to the Philippines grew by more than a third last year.
Alok Sharma, Minister for Asia and the Pacific, said:
The UK and Philippines have a long-standing and strong relationship, with links that get ever stronger. More than 17,000 Britons live in the Philippines and trade between our countries continues to grow.

As we leave the EU we have a great opportunity to work ever more closely with partners in Asia and Philippines will be key among that. The next few days will be an important chance to discuss trade, security and the rule of law.
Mr Sharma's arrival in the Philippines follows a visit to Hong Kong.
Further information
Published 4 December 2016