Press release
Alok Sharma visits Hong Kong for political and trade talks
Minister for Asia and the Pacific Alok Sharma will meet government leaders, businesses, legislators and civil society in an official visit to Hong Kong.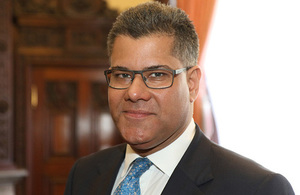 During his visit Mr Sharma will address business leaders at the British Chamber of Commerce in Hong Kong, where he will discuss Britain's ongoing role as a major trading nation. The UK exported £7.78bn of goods and services to Hong Kong in 2015, and Hong Kong is a major investor in the UK, including in the £8.4bn Greenwich Peninsula development.
The Minister will meet a range of companies including Hong Kong's rail company MTR (Mass Transit Rail) and discuss the company's investment in UK transport, including Crossrail, as well as their new South Island Line that will open by the end of the year.
Mr Sharma will also discuss the political situation in Hong Kong with legislators from a variety of mainstream parties and with a range of senior civil society representatives to hear their views. He will make clear that the Joint Declaration and the Basic Law underpin the implementation of 'One Country, Two Systems' and remain the foundations for the high degree of autonomy of Hong Kong and the rights and freedoms of its people.
Minister for Asia and the Pacific Alok Sharma said:
The UK and Hong Kong have deep historical and cultural ties, and we are great traders. Hong Kong is our second largest export market in Asia, worth almost £8bn last year, and a huge investor in the UK. From container ports to fintech, high street brands to semi-conductors, Hong Kong investors are a crucial part of the UK economy. They are transforming Manchester through large scale regeneration projects and helping us improve our commuter transport routes. We can do even more together.

We also value and respect the rule of law, which protects our predictable business environment and the prosperity of both our people. Hong Kong's success as a global hub relies on freedoms enshrined in the Sino-British Joint Declaration and Basic Law and, as a co-signatory of that Joint Declaration, the UK hopes and expects that One Country Two Systems will be respected and successful long into the future.
Further information
Follow Foreign Office Minister Alok Sharma on twitter @AlokSharma_RDG
Follow the Foreign Office on twitter @foreignoffice
Follow the Foreign Office on facebook
Published 1 December 2016