Press release
All mid-sized businesses to receive tailored trade advice
Every mid-sized business in the UK will be offered tailored trade advice and an intensive programme of support to help them start exporting.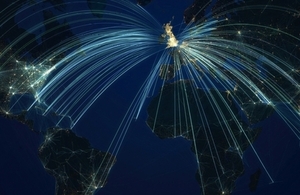 Every mid-sized business in the country will be offered tailored trade advice and an intensive programme of support to help them start exporting or break into new markets, Trade Minister Lord Livingston announced today (22 January 2014).
Lord Livingston will personally write to all the UK's 8,900 mid-sized businesses by this summer to ask them if they would like trade support from UK Trade and Investment (UKTI). Evidence shows that exporters do better with UKTI's help and on average mid-sized businesses can increase their sales by £1.8 million.
Mid-sized businesses are vital to the government's long-term economic plan to reduce the deficit and create more jobs. The CBI estimates that, if they reach their full potential, it would be worth £20 to £50 billion to the UK economy. Currently mid-sized businesses make up just 0.5% of all businesses but contribute around a fifth of employment and turnover in the UK.
However only 17% of UK mid-sized businesses generate revenues outside of the EU compared to 25% in Germany and 30% in Italy.
Speaking ahead of the Meet the Mittelstand conference in Staffordshire, which is bringing successful German companies to Britain so UK companies can hear about their strategies for success, Lord Livingston said:
Mid-sized businesses have the potential to be economic powerhouses for the UK economy, creating jobs and growth for all regions of the UK.

Their success is dependant on expanding beyond domestic markets so we will be making personal contact with all mid-sized businesses to find out what we can do to help them go up a gear and compete with the best the rest of the world has to offer.

Businesses excel with UKTI's support and we want to make sure that they are not just trading abroad, but thriving there.
UKTI market and sector experts are based both in the UK and overseas – across 160 locations in 111 countries.
A pilot study will be conducted in Yorkshire and the South East followed by a full national roll out.
Alexander Ehmann, Deputy Director of Policy at the Institute of Directors (IoD) said:
Building a sustainable recovery means improving the UK's export performance.

Doing business abroad will always involve risk, particularly in developing markets, so companies want to have as much information as possible before diving in.

IoD members who have used UKTI's services give them a good rating and we welcome the decision to expand the support they provide to mid-sized firms.
UKTI is also raising awareness of its services with smaller companies through a new national marketing campaign, Exporting is GREAT, which aims to generate 3,000 appointments for small firms with UK Trade and Investment (UKTI) advisers by April 2014 and drive £1.2 billion in export revenue from the leads it generates.
As part of his visit to Staffordshire, Lord Livingston will visit the mid-sized business F Ball and Co Ltd in Cheddleton who specialise in floor preparation products and floor adhesive. With help from UKTI , they export to overseas markets including Belgium and Luxembourg.
Companies interested in learning more about exporting opportunities should contact UKTI,
Notes to editors
'Meet the Mittelstand' is taking place on 22 January 2014, at JCB Visitor Centre, Rocester, Staffordshire, ST14 5LS, from 8.30 to 17.30. The event is aimed at bringing successful, privately-owned, engineering focused German companies to the West Midlands to share with local firms the secrets of the world famous German 'Mittelstand model'. The Mittelstand refers to the band of small and mid-sized German firms which employ around 70% of Germany's workforce and economists believe is the backbone of Germany's economic growth. Many Mittelstand companies are export-oriented focusing on innovative and high-value manufactured products. Many combine a cautious and long-term oriented approach to business and profitability.

The government's economic policy objective is to achieve 'strong, sustainable and balanced growth that is more evenly shared across the country and between industries'. It set 4 ambitions in the 'Plan for Growth', published at Budget 2011:
to create the most competitive tax system in the G20
to make the UK the best place in Europe to start, finance and grow a business
to encourage investment and exports as a route to a more balanced economy
to create a more educated workforce that is the most flexible in Europe
Work is underway across government to achieve these ambitions, including progress on more than 250 measures as part of the Growth Review. Developing an Industrial Strategy gives new impetus to this work by providing businesses, investors and the public with more clarity about the long-term direction in which the government wants the economy to travel.
3.UK Trade & Investment (UKTI) is the government department that helps UK-based companies succeed in the global economy. We also help overseas companies bring their high quality investment to the UK's economy – acknowledged as Europe's best place from which to succeed in global business. UKTI offers expertise and contacts through its extensive network of specialists in the UK, and in British embassies and other diplomatic offices around the world. We provide companies with the tools they require to be competitive on the world stage. For more information on UKTI, visit www.ukti.gov.uk or visit the online newsroom at www.ukti.gov.uk/media.
4.The mid-sized businesses covered by this programme will be defined as companies with a turnover of between £25 million and £250 million.
Published 22 January 2014