All in a day's work - the role of British consular staff
Helping holidaymakers, meeting local tour operators and discussing local concerns with expats, all in a day's work for British Vice Consul Rania Kossiori.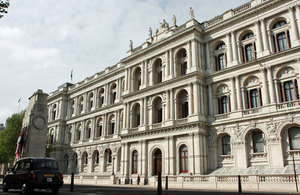 Rania has worked for the British Vice Consulate in Rhodes for 6 years, her consular district covers Rhodes and Kos, two popular Greek island destinations for British tourists. FCO travel interviewed her ahead of the busy summer season:
Rhodes & Kos - the facts:
British visitors: around 300,000 a year

British residents: around 3,000

Consulate staff: 3 during summer months

Serious assistance cases: 3-4 serious assistance cases during a day in August (e.g deaths, arrests, assaults or financial assistance cases) - These cases can span days and sometimes weeks or one or more of our staff

Emergency travel documents issued: 1-2 on an average day in August - Quite often entire families come in having lost their passports So what is the best thing about being a Vice Consul? Rania tells us it is succeeding in helping someone in distress:
"I think that all those who deal with consular work share the same feeling after a day's work: having the satisfaction that you have assisted someone who has needed help and has turned to you at a time of personal distress; their gratitude and recognition is the highlight of our job."
And the worst?
"The cases when there is little we can do to help; seeing tragic incidents happen and often sharing the distress of the people involved. And the cases that could have been avoided if people had read the travel advice and followed some simple personal safety steps."
So what are the strange enquiries that you have had at the Consulate?
"We will never stop being surprised at what people want a consular officer to do. Recently we were asked to mind someone's pet when they are away, to provide information on how to go about setting up a chicken coop in the back garden - and to help sort out a romantic entanglement!"
"I was asked a few months ago to be a judge at the local authorities' bid to enter the Guinness Book of Records by creating the largest local sweet made from honey and sesame!"
But it isn't just consular assistance that you do is it?
"Aside from consular assistance, the focus of our work has become more proactive; we have sought to reduce the number of consular cases by undertaking a number of initiatives: establishing a strong network of contacts among the local authorities and the local expatriate community, building partnerships with tour operators and NGOs and creating and promoting safety message campaigns among the British visitors. All this, of course, in close co-operation with the extended consular team in Greece and in the UK.
So what are Rania's tips for people that are planning to visit Rhodes or Kos this summer?
take out travel insurance that will cover you for everything you plan to do while you're here
visit the Foreign Office travel advice for Greece to research your destination and understand the local laws and customs
when you're here - look out for your friends, and keep an eye on your belongings, and when going out know your personal limits And also…
"enjoy the fantastic beaches, marvel at the historic medieval architecture of the islands and savour the delicious local delicacies"
Published 12 August 2011