World news story
Alison Blake welcomes the England and Bangladesh Cricket team
The England and Bangladesh cricket teams were welcome to the Bangladesh Residence on Tuesday 25 October.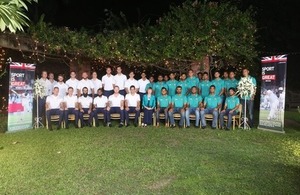 Speaking at the event, the High Commissioner said:
This has been the most thrilling set of matches, with some fantastic playing – really full spectrum performances from both teams.

We are here not only to salute the professionalism and sportsmanship of the two teams, but I hope to reflect on the power of sporting links and friendships to bind countries together and to inspire. No less than me, our two cricket teams act as ambassadors for our nations and each of them is a powerful role model for young people across the globe at a time when it can be all too easy for our youth to lose their hope or to lose their way.

I am delighted that the England team took time out today to see and hear about some of UK Aid's work here in Bangladesh to support those working to prevent violence against women and support the survivors. I hope the publicity that the team's visit will provide will inspire those who hear or see the work and will encourage more women – and men – to come forward to say this is not acceptable and put a stop to this terrible scourge that blights young lives.

So many people have worked so hard for many months to get us all to this point, and I would particularly like to thank the England Cricket Board, the President. members and staff of the Bangladesh Cricket Board for their engagement and the help, support and encouragement they have provided to the ECB and to all of us at the High Commission and the Government of Bangladesh and police authorities for their work to ensure the security of the players, spectators and venues.
Bangladesh Cricket Board's Vice President Mahbubul Anam said:
It has been an epic series between Bangladesh and England and each day of cricket, be it in the ODI matches or the first Test, has been fascinating and gripping. Supporters of both sides have had their moments of despair and joy and the games have been played in true competitive and cricketing spirit.

The ECB and the British High Commission in Dhaka have been extremely positive throughout the build up to this series and have worked alongside the BCB in making this tour happen. We are really appreciative of the support and through it all cricket has been the undisputed winner.

Having the England team in Bangladesh and to watch them on and off the field has been a pleasure and I am certain that memories of this engaging tour will remain in the hearts of the players, officials, the fans and the media for a very, very long time.
England Cricket Board's Chief Executive Officer Tom Harrison said:
The Bangladeshi people have been wonderful; everywhere we have been its thank you, thank you for coming, thank you for being here, and that means an awful lot to us.

Thank you to the Police teams in Chittagong and Dhaka for their outstanding support to make sure our team feels safe and secure in every transit; I would like to say a special thanks to the British High Commission for their outstanding support - you made us feel incredibly welcome; and to the Government of Bangladesh for their ongoing support as they try to ensure a safe environment for our players to do what they do best.

This tour is a watershed moment for world cricket. And certainly signals the arrival of the Bangladesh cricket team in test cricket. Sport transcends boundaries, brings communities together, and shows how with commitment, passion and determination, everyone can overcome obstacles and be the best they can be.
For more photos from the event please send an email to: Dhaka.Press@fco.gov.uk
To know more about the England Cricket Board, please visit: www.ecb.co.uk
To know more about the Bangladesh Cricket Board, please visit their website
Published 26 October 2016