Alina Ibragimova on freedom of expression in Britain
In a Foreign Office film launched today, Russian violinist Alina Ibragimova discusses the open-mindedness of British audiences towards all forms of music.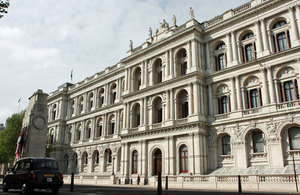 The film is one of the 'See Britain through my eyes' series featuring individuals from home and abroad talking about their experiences of modern Britain in the run up to the London 2012 Olympic and Paralympic Games. Alina's film is being released to coincide with her upcoming performance at the Manchester International Festival, where she will share the same stage as acclaimed artists including Blur and Bjork. Watch her short film below.
In the film Alina reminisces about her first impressions of the UK when she first moved here as a child, following her father's invitation to play with the London Symphony Orchestra. Alina was awarded a place at the Yehudi Menuhin music school in Surrey at the age of eleven, which allowed her to decide her own musical direction. She put in 14 hour days as someone who believes classical music is life not work, this was no punishment. She says that encouraging children in the UK to explore music at a young age contributes towards a society that embraces all forms of music from around the world.
Alina believes the freedom of expression that is encouraged in the UK allows artists like her to flourish. She says, "what's incredible in this country is whatever you do, you know that it will be welcomed and respected and it gives you that kind of freedom on stage that you wouldn't otherwise have."
Alina started playing the violin at the age of four, and at six she performed at the world famous Bolshoi Theatre in Moscow. She has become a much sought after musician performing up and down the UK and internationally, playing many styles of music from baroque to modern. She was the youngest ever winner of the Royal Philharmonic Society's Emily Anderson Prize and won the RPS' young artist award in 2010. She has performed with orchestras including London Symphony, BBC symphony, Konzerthausorchester Berlin and the Halle. As a soloist/director Alina has performed with the Kremerata Baltica in Paris, Salzburg and Verbier and has toured with the Britten Sinfonia and Australian Chamber.
At the Manchester International Festival, Alina is fusing classical with modern to perform a programme of musically connected works. This will be set against with an amazing visual backdrop created by legendary filmmakers and stage designers the Quay brothers.
Published 4 July 2011