World news story
"Alas Poor Yoric!" Shakespeare's Hamlet in Luanda for one night
The prestigious theatre company Shakespeare's Globe performed Hamlet in one show at the Brazilian Cultural Centre in Luanda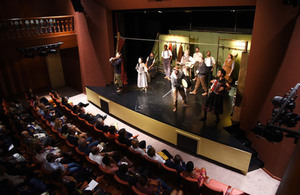 As part of the "GREAT" campaign the British Embassy in Luanda was pleased to announce the presentation of Hamlet by the prestigious British theatre company "Shakespeare's Globe" at the Brazilian Cultural Centre on 27 November. Angola is one of the more than 200 destinations that the company visited with Hamlet as part of its Globe to Globe World tour.
The performance of Hamlet by the Shakespeare Globe Theatre is part of the UK's GREAT Britain campaign. The campaign, with the slogan "GREAT Britain: Partnering Prosperity", aims to raise awareness of the multi-faceted appeal of the UK as a GREAT partner for business, innovation, investment, education, culture and tourism. There was also an opportunity for Angolan Drama and Theatre Students to meet the actors of the Shakespeare Globe theatre at the Brazilian Cultural Centre, shortly prior to their performance.
The audience which ranged from students to professors, from government officials to ambassadors and even non-English speakers, filled the Cultural Centre as everyone was desperate to be a part of this once in a lifetime event. Everyone warmly welcomed the artists on stage with huge applause and at the finale with a standing ovation.
This was a rare opportunity to see Shakespeare performed in English in Angola by a leading UK Shakespearean company. The performance was organized in Luanda by the British Embassy, Brazilian Cultural Centre and Shakespeare's Globe theatre based in London.
Published 30 November 2015