Alan Milburn accepts appointment to review social mobility
Letter from Rt Hon Alan Milburn to Deputy Prime Minister Nick Clegg accepting the appointment to review social mobility.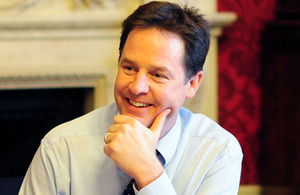 Dear Nick,
Thank you for your letter of 11 August inviting me to accept appointment as an independent reviewer on social mobility. I am happy to do so.
The goal of an open mobile society where all have a fair chance to progress is something that has motivated me all my adult life. Recent years have seen progress towards that goal. I have always believed, however, that our country should be continually striving to create more opportunities for each and every person to go as far as their talents can take them. For me, the job of politics is to make that possible by breaking down the barriers that prevent people from realising their potential.
It is welcome that all the major political parties have offered their commitment to the goal of a more open mobile society but achieving progress means putting social mobility at the top of the policy agenda - in Government, business, civil society and many other institutions. In this new role I aim to fairly and independently assess the progress each set of institutions is making to a United Kingdom where there are more opportunities for people, regardless of their starting point in life, to realise their aspirations.
I see my role as independently reviewing how well Government and other institutions are performing against what is inevitably a long term agenda for social progress - and then reporting openly, with my annual report laid before Parliament to consider. I will be candid in discharging that function. I look forward to taking up the appointment.
Your sincerely,
Rt Hon Alan Milburn
Published 12 August 2010