Alan Duncan visits Bangladesh
Minister of State for International Development, Alan Duncan MP in Bangladesh on fact-finding visit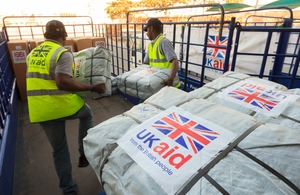 Mr Duncan said:
"The UK is a long-standing partner of Bangladesh. We enjoy a vibrant bilateral relationship and are proud of supporting Bangladesh's efforts to combat poverty and achieve the Millennium Development Goals.
"I am determined that our aid programme, delivered with Government of Bangladesh and other development partners, succeeds and demonstrates high impact and maximum value for money. What matters is results, in terms of our impact on the lives of the poor - the number of children educated, people with access to safe water, mothers having safe birth.
"We must look at all angles if we aim to attain the Millennium Development Goals by 2015 and reduce poverty in Bangladesh."
Mr Duncan visited Manikganj to observe UK-funded pre-primary education, microfinance, health and urban partnership programmes. He also visited the Dhaka Economic Processing Zone and garment factory in Savar to discuss the challenges to private sector led growth, including links between the investment climate and business.
Video of Alan Duncan visiting these projects on his visit to Bangladesh:
During the first visit to Bangladesh by a British Minister from the recently elected Coalition Government, Mr Duncan met the Honourable Prime Minister, Acting Foreign Secretary, Foreign Minister, State Minister for Environment and Forests, and Leader of the Opposition.  He also met representatives of civil society organisations to discuss the challenges that Bangladesh faces - and how to ensure that the UK's aid programme achieves all that is set out to do whilst demonstrating transparency, accountability and value for money.
Published 16 July 2010