Alan Duncan agrees vision for UK aid in Vietnam
International Development Minister Alan Duncan visited Vietnam this week to finalise the role UK aid will play in the country over the next five years.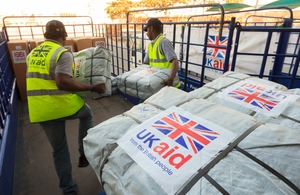 During the visit, the Minister signed an amendment to the UK - Vietnam Development Partnership Arrangement, which sets out the goals for Britain's support until 2016 to help Vietnam:
meet the Millennium Development Goals
achieve strong growth that is inclusive, low-carbon and private sector-led
strengthen efforts to tackle corruption and enhance accountability
The trip was also a chance for Mr Duncan to see UK aid in action, visiting projects to encourage enterprise and tackle the impacts of climate change.
In Dak Lak, one of the country's poorest provinces, Mr Duncan saw how local coffee farmers now have much greater potential to expand their profits. The newly built "semi washed" Robusta coffee processing station, supported by UK aid, helps process their raw beans to a high quality for export on the world market.
In Phu Yen, the Minister visited an innovative, DFID-backed project to minimise the impact of climate change. Here, careful planting of grasses and coconut fibre is helping to protect the beach and prevent seashore erosion.
In addition to the field visits, the Minister of State held several high-level meetings with Vietnamese officials, including Prime Minister Nguyen Tan Dzung, to stress the importance of the relationship between the two countries.
Published 26 May 2011