Akrotiri medical centre a 'step change' for healthcare
Service families based at RAF Akrotiri in Cyprus will soon be accessing medical and dental services in a newly-constructed integrated treatment facility.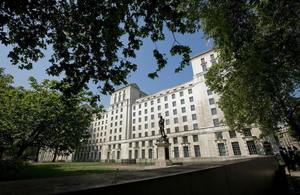 The Akrotiri Health Centre was built by Defence Estates using local Cypriot architects and construction contractors, and comprises medical and dental treatment facilities which meet all NHS health regulations and technical requirements.
The health centre includes medical consulting rooms, midwife and social worker support amenities and a pharmacy. Dental facilities comprise treatment surgeries and a technical laboratory, plus consulting rooms which enable patients to receive dental treatment previously only available at the local hospital.
The centre's interior has been designed to be light and airy, and is fully temperature controlled with air-conditioning. The building has been insulated to a level meeting the most stringent European legislation, representing savings on long-term energy costs.
The medical centre is located centrally on the Station, providing easy access from other amenities. Ample parking has been provided - including mother and child spaces, which were requested by a customer focus group.
Commenting on the new medical centre, Akrotiri Station Commander Group Captain John Bessell said:
This great new facility shows how the Ministry of Defence values the essential work of RAF Akrotiri and its people.
There is room for further expansion at the new health centre, which has been designed to provide primary health and dental care in the first instance, but could be extended to allow hospital care with sterilisation support if necessary.
Speaking on the completion of the building, former Head of DE Operations International, Air Commodore Opie, said:
The new Integrated Health Facility is a superb asset and represents a step change in the capability that is provided for Commander British Forces Cyprus and the support that is available to care for personnel serving at Akrotiri.
Published 28 September 2010