News story
Airports Commission: membership update
Geoff Muirhead steps down from his position at the Airports Commission.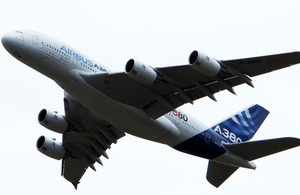 The Airports Commission has been informed that Geoff Muirhead and the Secretary of State have decided by mutual consent that Geoff will stand down from his role on the Commission.
The members of the Airports Commission would like to thank Geoff Muirhead for his valuable and insightful contributions to their work programme. Throughout his time with the Commission, he has consistently demonstrated his impartiality. However, while they regret that this decision has been necessary, they accept that in the changed circumstances following Manchester Airports Group's submission of its proposals for expanding Stansted Airport, it has become appropriate for Geoff to stand down to safeguard against any perception that the integrity of the process may be compromised.
Related documents
Published 20 September 2013