News story
Aircraft supported by UK Export Finance assists relief operations in the Philippines
Delivery flight of new A330 aircraft used to send water sanitation equipment and food to the Philippines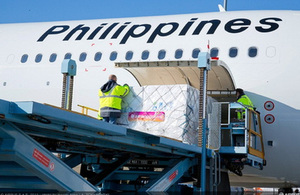 Haiyan, one of the strongest typhoons ever recorded, struck the Philippines at the beginning of November. The country is still in great need, with thousands of people remaining homeless and without food or water.
Airbus and Philippine Airlines (PAL), in conjunction with Action Against Hunger, used the delivery flight of PAL's brand new A330 aircraft to send 19 tonnes of water sanitation equipment and food to the Philippines last week (28 November).
Jean-Baptiste Lamarche, Logistics Director for Action Against Hunger, stated:
Airbus Foundation and Philippines Airlines have helped us to provide essential relief items to those who need it most.
This A330 was the first of the latest tranche of Airbus aircraft being delivered to PAL with support from UK Export Finance.
UK Export Finance has a long-standing relationship with Airbus. In the last financial year UKEF supported 23 per cent of the total aircraft delivered by Airbus. In the financial year 2012 to 2013 the department supported the delivery of 134 aircraft purchased by 34 different airlines and operating lessors across the civil aerospace sector.
The Airbus Corporate Foundation has completed 36 relief or goodwill flights to destinations around the globe to date and has built up a global network of airlines and relief organisations to support international humanitarian causes.
Meanwhile, PAL has also used other recent maiden flights to deliver aid to the people of the Philippines.
Read a round up of the news articles relating to the support the UK government is providing to those affected by Typhoon Haiyan.
Published 3 December 2013