Airbus offers advice and support to UK defence and security SMEs
50 UK defence and security Small Medium Enterprises (SMEs) find out about exporting and supply chain opportunities at UKTI DSO event.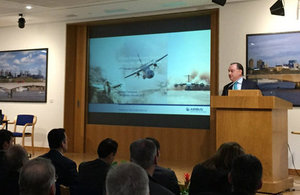 UK Trade and Investment Defence and Security Organisation (UKTI DSO) Small Business Unit organised the event, which was chaired by Tracy Buckingham, UKTI DSO Head of Business Strategy.
Presentations and discussions
Airbus Defence and Space (ADS) delivered a series of informative presentations that helped to explain the company's procurement and supply chain policies and processes.
The audience first heard how UKTI DSO and UKTI offered advice, information and support designed to help UK SMEs win overseas business.
This was followed by an overview of Airbus, delivered by Richard Thompson, Head of ADS Military Air UK and how to supply ADS, delivered by Michael Prosser, ADS Regional Head of Business Operations.
ADS also introduced senior representatives from its Madrid office who spoke about the some of the company's more technical requirements.
Value was added in the form of generous networking time which both Airbus and SMES made best use of.
Feedback
Feedback on the day suggested that Airbus was very pleased with the interest and enquiries generated by the SME audience.
In turn SMEs were delighted to have yet another opportunity to get close to an important player in the overseas defence and security market.
Future plans
The UKTI DSO Small Business Unit, in conjunction with our Key Account Management colleagues, will continue to work closely with Airbus to monitor follow-on interest and activity and to discuss developing this event into something more substantial in 2016.
Airbus Defence and Space (ADS)
ADS is one of the UK's leading commercial and military aerospace companies.
More information
Published 24 February 2015