News story
Airbus Ministers' Meeting at Farnborough International Airshow – 19 July 2010
The meeting was chaired by Mark Prisk, British Minister of State for Business and Enterprise. Also present were Dominique Bussereau, French …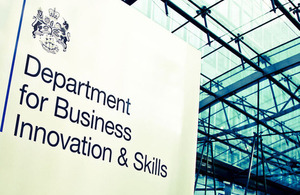 The meeting was chaired by Mark Prisk, British Minister of State for Business and Enterprise. Also present were Dominique Bussereau, French Secretary of State for Transport, Peter Hintze, German Parliamentary State Secretary in the Federal Ministry of Economics and Technology, and Teresa Santero, Spanish Secretary General for Industry. The industry was represented by Tom Enders, CEO of Airbus and Louis Gallois, CEO of EADS.
The Ministers were pleased to hear of the continuing success of the company, who have signed further significant deals today at the Farnborough Air Show. Civil aerospace is an important sector for all of the Governments and are pleased that the company continues to increase production and make new sales announcements as airlines and economies emerge from the recession.
The Ministers had a wide-ranging discussion on the company's strategy and vision for globalisation and the opportunities that are created by working with emerging economies. They also discussed the importance of export sales financing and received a presentation on Airbus' global marketing activities.
The Ministers discussed the status of the ongoing WTO procedures and reaffirmed the need for a level playing field on both sides of the Atlantic as well as on the international market. Ministers welcome anything that ensures fair competition and agreed that the further delay to the WTO's interim report in the case of US subsidies is unacceptable, and noted that the WTO needs to deal with the two cases in a parallel and balanced way. Where we do not agree with the first report's findings we will encourage the European Commission to make a robust challenge through the WTO's appeal process. The story will only be complete when the second report is issued and Ministers look forward to seeing the WTO's views on US subsidies and tax breaks. At this stage there will be an opportunity for the world's aircraft manufacturing nations to agree a way to support this sector in a transparent way.
Notes to Editors
Contact Information
Name BIS Press Office Job Title
Division COI Phone
Fax
Mobile
Email NDS.BIS@coi.gsi.gov.uk
Name Lucy-Michael Sutton Job Title
Division Department for Business, Innovation and Skills Phone 020 7215 5977 Fax
Mobile
Published 19 July 2010