Aid effectiveness: Mitchell co-chairs 'post-Busan' panel
Development Secretary Andrew Mitchell has been appointed as co-chair of the Global Partnership for Effective Development Cooperation.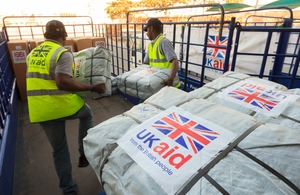 The new partnership will build on global development co-operation efforts, following on from last year's aid effectiveness forum in Busan, South Korea.
Mr Mitchell will represent traditional aid donors on the panel, and will be joined by a co-chair from the developing world and one from emerging economies.
Last year's historic agreement at the Busan High Level Forum on Aid Effectiveness recognised the important role played by emerging economies, alongside traditional donors and others in development cooperation.
The conference agreed a series of aid principles, including:
Developing nations at the heart of development priorities: Aid programmes and development partnerships will only succeed if they are led by developing countries, implementing approaches that are tailored to specific solutions and needs
Aid based on results: Busan underlined the importance of 'results frameworks', led and owned by partner countries, to ensure development is delivering measurable impact
Greater transparency: Donors and partners must be more transparent, so that countries can plan, coordinate better and learn from each other; and citizens can hold governments to account for their decisions and their actions
Fragile states: Busan marked agreement on negotiations for a 'New Deal' for fragile and conflict-affected countries. Because of this New Deal, donors and fragile countries at Busan signed up to better ways of working, tailored to the challenges of working in these countries
Cooperation with new aid donors: Emerging powers like China, Brazil and India are becoming increasingly influential providers of support and assistance to poorer countries, and are key members of this partnership.
International Development Secretary Andrew Mitchell said:
I am delighted to be able to work with the other co-chairs to forge a powerful new partnership to end global poverty.

Last year's conference underlined how aid programmes will only succeed if developing countries are at the very heart of our approach. I will work with the other co-chairs to ensure we turn words into action and set down concrete steps to develop our partnership at the first ministerial meeting next year.

Working with traditional donors, partners and emerging economies, Britain will use its expertise to ensure aid can make the most difference to the lives of poor people. That means living up to the principles set out in Busan, not least the focus on achieving results, and on being transparent in all that we do.
The appointment also follows Prime Minister David Cameron's leadership of a new UN panel to explore an international framework for development, after the end of the Millennium Development Goals (MDGs) which expire in 2015.
Published 29 June 2012