Agreement on EU External Action Service
A structure for the European External Action Service (EEAS) was agreed on Monday by William Hague and fellow EU Foreign Ministers.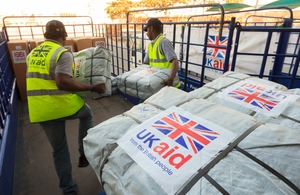 The new service, a product of the Lisbon Treaty, aims to strengthen the EU's external reach and create a more joined-up approach to international development.
The agreement gives a strong role to the EU's International Development Commissioner, Andris Piebalgs. This is good news for developing countries, and will help ensure that the EU's development resources retain their focus on helping the world's poorest people lift themselves out of poverty.
The UK Government, through DFID, called for the EEAS to retain this focus on development priorities, and partly due to these efforts the agreement includes:
A clear reference to poverty eradication which will help meet the EU's collective commitment to provide 0.7% of GNI for development aid by 2015.
A clear financial accountability, with the Development Commissioner responsible for development spending.
A broader remit for the Development Commissioner, who now has shared responsibility with the High Representative for more regions than in the past - he will cover the European Development Fund (Africa, Caribbean, Pacific) and the Development Cooperation Instrument (Asia, Latin America). The head of EuropeAid which also implements programmes in other regions, will report to him.
A commitment to review the development set-up early on in 2011.
DFID and the European Union
The European Commission is the world's second largest donor and also the second largest provider of humanitarian assistance.  It provides long term development assistance as well as immediate help for people affected by natural disasters, such as the Haiti earthquake.
The Commission manages development programmes across 145 countries and has helped hundreds of millions of people to lift themselves out of poverty; for example, EU funding has helped provide clean water to 14 million people in Africa and 60 million textbooks for school children in Bangladesh.
All 27 EU member states contribute financially to these programmes alongside the development work they fund directly. DFID ministers take part in deciding how EU development funds should be used.
The UK Government is determined to make sure EU aid works and makes a real difference to the lives of the world's poorest people.
Published 27 July 2010