World news story
Aggreko prepares to expand its presence in Peru
British company Aggreko, a world leader in the supply of temporary energy solutions, will build new operational headquarters in Lurín and increase its presence in 10 other cities.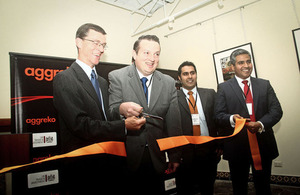 In an event that took place at the British Ambassador's Residence, Aggreko and UK Trade & Investment (UKTI) presented Aggreko Peru's expansion plans for the next 10 years. The highlights included the completion of the construction of their new 5,000 square meter headquarters in Lurín and the forthcoming opening of subsidiaries in Trujillo, Arequipa and Iquitos, in addition to the development of an expansion plan that will amplify its presence in a total of ten Peruvian cities within five years' time including Cajamarca, Cusco, Piura and Puno.
The British Ambassador in Peru, James Dauris, congratulated Aggreko on its success in Peru since its arrival two years ago and stressed that promoting trade relations between Peru and the UK is a high priority for the Embassy.
Andrés Mesics, the CEO of Aggreko in Chile, Peru and Bolivia, commented that Aggreko is now ten times the size it was upon entering Peru in 2011 with growth forecasts for this year of 100%. He also added that "Aggreko has a rental fleet that could supply all of Peru, whose growth rates are amongst the highest in Latin America. This is due to a significant amount of investment in the mining, construction and retail industries, amongst others."
Aggreko has more than 194 service centres in 47 countries. In Latin America, these centres are located in Brazil, Venezuela, Chile, Argentina, Peru, Colombia, Panama, Mexico and theDominican Republic and seek to meet the growing energy demand created by the region's fast development. It also has more than 5,700 expert professionals qualified to design custom solutions, offering projects that include operations, logistics, planning and implementation, allowing clients to focus on their objectives without worrying about power generation.
At present, it provides temporary rental of generators to companies involved in building, mining, shipping, oil, gas, electric companies, events (local and international) and food and drinks, creating jobs in all of these areas.. Among its most recent clients are the London 2012 Olympic and Paralympic Games; Aggreko has provided temporary power supply in more than 50 countries including the UK, France, Angola, Kenya, Indonesia, Brazil, Chile, Argentina, Peru, Colombia, Mexico, Panama, Dominican Republic and the USA.
Aggreko is listed on the London Stock Exchange (AGK.L) and is part of the FTSE-100 Index. Its headquarters are located in Glasgow, Scotland.
More Information
UKTI seeks to promote commercial links between British and Peruvian companies. In 2012, we helped more than 100 UK companies do business in Peru and shared information with hundreds of Peruvian companies on business opportunities in the UK. If you are a British Company interested in finding out more about business opportunities in Peru or a Peruvian company in search of British business partners or suppliers, please contact the UKTI Team at the British Embassy in Lima UKTI.lima@fco.gov.uk
Published 21 August 2013