African Union Summit opens in Kampala
The 15th African Union (AU) summit has opened in Kampala, Uganda. The theme of the summit, which lasts until 27 July, is Maternal, Infant and Child health and Development in Africa.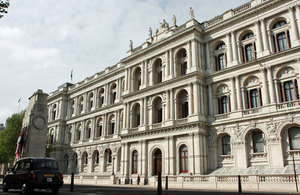 Other regional and global issues such as the situation in Somalia, climate change, trade, and the global economy are also likely to be discussed.
The summit brings together leaders from 53 African states. Senior government officials from other countries including the United Kingdom, USA, China and France will attend some meetings and conduct a number of bi-lateral meeting in the margins. Minister for Africa Henry Bellingham will represent the British government at the Summit from the 22 July.
The African Union was founded in 2002 and is Africa's most significant political institution. The Summit plays a key role in conflict prevention, mediation and governance issues. The AU Commission, chaired by former Gabonese Foreign Minister Jean Ping, is the executive branch of the African Union, and as such is a major driver of AU policy and activity, but ultimately decisions rest with the member states.
The AU Commission's four strategic priorities are peace and security, shared values, capacity building and climate change.
Published 22 July 2010