World news story
Africa needs practical measures to fight poverty
Paul Boateng has called on African leaders to put in place practical measures which could see the continent move out of its present predicament.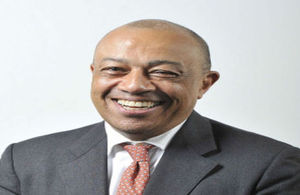 Mr Paul Boateng, a former UK Treasury Secretary, has called on African leaders to put in place practical measures which could see the continent move out of its present predicament of poverty and inequality.
He said although Africa is well endowed with a lot of natural resources, poor management of its resources had led to poverty among its people.
Speaking at the close of a three-day pan African conference on inequality in Accra on Wednesday, he called on African leaders to set economic targets and also ensure that such targets were achieved.
Mr Boateng called on African leaders to develop reliable data which could be used effectively in national planning and development and added that it was disheartening to note that 35out of every 100 people in Africa did not have access to decent toilet facilities.
Also one out of every four children suffers from stunted growth in Africa whereas again one out of every two people live in extreme poverty on the African continent, he added.
He said if pragmatic measures were not put in place, Africa would still be the home to the worlds poorest by2030 and cited growth in agriculture as well as the development of ICT as the major basis of economic growth for Africa.
Mr Boateng, also a former High Commissioner to South Africa, appealed to the academia in Africa to work closely with development partners to come out with innovative measures on developing the continent.
In a communique issued at the closing ceremony, the participants who were from about 40 countries called for the expansion of social protection for the poor in order to promote productivity and also enable the poor have access to decent standard of living.
The communique also called for the promotion of gender equality through equitable access to services,political representation and access to resources for enhanced livelihoods.
We also call for the implementation of measures aimed at fair and effective taxation, increasing access to finance especially for women and youth entrepreneurs as well as curbing illicit flows and combatting corruption, the statement said.
The communique also called on policy makers to put in place effective policies and institutional framework to support the scaling up of small and medium business to enhance employment and productivity.
The participants also called for an increased access to business advisory services and credit facilities as well as the pursuance of sustainable employment-generation policies and to encourage women and young entrepreneurs.
The conference was a follow-up to the Global Consultation on Inequalities, hosted jointly by the Government of Denmark and the Government of Ghana in February 2013.
The conference aimed at forging linkages between African developmental debates, discussion on the post-MDGs development framework and also to craft an African agenda on inequalities,especially in the context of shaping an African vision for the next 50 years.
Published 5 May 2014