Afghans signal desire for change in Sangin
I visited Sangin today for the last time as Head of the PRT. It's a place where many ISAF [International Security Assistance Force] and Afghan…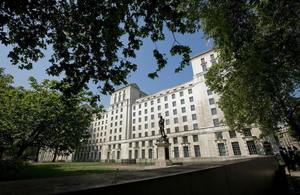 I visited Sangin today for the last time as Head of the PRT. It's a place where many ISAF [International Security Assistance Force] and Afghan troops have lost their lives over the years.
When I went for the first time in October 2010 we had to fly in after dark for security reasons. That summer and autumn Royal Marines and US Marines took very heavy casualties. Sangin epitomised the challenges in northern Helmand.
Today, Sangin is a symbol of progress. Last week Afghan officials conducted registration for its first ever local election. Over 3,000 elders took part, which would represent the highest turnout for a local election in Helmand. That included a woman, a widowed ex-Mujahideen fighter - which may not sound a big deal, but in remote, conservative north Helmand is a remarkable development. The election itself in late-March will produce Helmand's eighth elected local council, further extending the writ of Afghan governance across this province.
Such progress in less than 18 months is a tribute to the courage and sacrifice of British, US and Afghan security forces, and to the leadership of Governor Mangal and District Governor Sharif. On 1 January 2011 Mangal concluded a security accord with Alikozai elders from the Upper Sangin Valley - not the end of hostilities but a vital first step.
By the summer Sangin had an appointed interim council, supported through Afghan systems with PRT funding and technical advice. By the end of the year Afghan experts assessed that the situation was ripe for full elections - following the same path as Marjah in central Helmand 12 months earlier.
Sangin's story also illustrates the transformational effect of paved roads and the security and freedom of movement they bring. Last autumn Mangal drove from Lashkar Gah to Sangin in 40 minutes on Route 611, newly-constructed with UAE [United Arab Emirates] funds. The Afghan experts who oversaw registration last week returned to the provincial capital by the same route in ordinary civilian vehicles. Suddenly the reach of governance doesn't depend on ISAF helicopters.
There are still challenges in the north. Late last week seven Afghan soldiers were killed by an IED. But people are signalling clearly their desire for change.
We will continue to support stronger governance and development in the area, from Lashkar Gah and through our civilian District Stabilisation Team on the ground. This month we will let a contract to pave Route 611 north to Kajaki - a joint UK/UAE/US project to secure access to the strategically vital hydropower plant at Kajaki. There's now a strong Afghan government presence there, following successful security operations last autumn. Northern Helmand is changing fast.
We need your help! We are trying out designs for a new single website for all of government and we'd love your feedback. Please visit the 'Government beta site' by clicking on the link under Related Links.
Published 7 March 2012