AFC Wimbledon rewarded for community work
Minister for Sport presents club with Big Society Award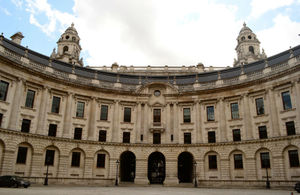 Football club AFC Wimbledon has become the latest organisation in the UK to be presented with the Big Society Award in recognition of their work in the local community.
Sports Minister Hugh Robertson visited the League Two club's home ground, the Kingsmeadow Stadium, to present the award.
The Big Society Awards were set up by the Prime Minister in November 2010 to recognise individuals, groups or organisations that are demonstrating the Big Society in their work or activities.
AFC Wimbledon - a football club devised and run by its supporters, including 300 volunteers - has been running a number of community initiatives since 2002. They include a scheme to improve literacy in young adults, putting on art classes for local people with learning difficulties and providing football skills coaching in the community.
"Worthy recipients"
"Football clubs across the country have an important role to play in their local community and AFC Wimbledon is a fine example of this," Mr Robertson said. "They are worthy recipients for the Big Society Award for their community projects and I wish them every success in the future."
Erik Samuelson, Chief Executive of AFC Wimbledon, said: 
"This club's achievements show that a co-operatively owned football club can be faithful to its high ethical standards, keep a keen focus on community involvement, be financially sustainable - and still be successful on the pitch. Everyone who has contributed to the club's success and this award should be very proud."
Clive Yelf, community volunteer at AFC Wimbledon, said:
"In just ten years AFC Wimbledon has redefined the expectations of others as to what ordinary football supporters working together can achieve. Being a community organisation ourselves, we can also recognise the importance of supporting and helping others to achieve their own aims and the fact that football has a strong position in our national culture and can help provide a common thread between groups and individuals.
"The Big Society award is very much appreciated - not as an end in itself but as a clear recognition that our priorities, our ambitions and our values are the right ones. "
Further information
Published 28 March 2012