News story
Advocate General for Scotland statement on the Partnerships (Prosecution) (Scotland) Act 2013
The Advocate General for Scotland, Lord Wallace of Tankerness QC has made a statement on the Partnerships (Prosecution) (Scotland) Act 2013.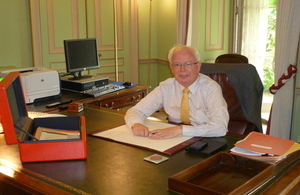 "In 2004 a fire in Rosepark Nursing Home in Uddingtson, Lanarkshire, led to the death of 14 elderly residents. The Lord Advocate brought serious criminal charges under health and safety legislation, but because of a legal technicality – the dissolution of the partnership that ran the home – nobody could be prosecuted. The Partnerships (Prosecution) (Scotland) Act, which came into force on 26 April 2013, addresses the loophole that made it impossible to prosecute a partnership that had been dissolved.
"The Rosepark fire created the impetus for a Scottish Law Commission (SLC) project to investigate why the prosecutions had failed and how the anomaly in the law could be addressed. In May 2011 the SLC published its discussion paper on the issues, and following consultation, reported with a draft Bill in December 2011. The Scotland Office subsequently consulted on the draft Bill and it was introduced to the House of Lords in December 2012.
"The Act is one of only a handful of Westminster Acts, since the establishment of the Scottish Parliament in 1999, to extend to Scotland only. It is sometimes forgotten that Scotland has two Governments and two Parliaments both with their own contribution to make in improving the lives of the people in Scotland. The Act demonstrates the continuing interest and responsibility of the UK Government in taking forward Scottish legislation in the UK Parliament, and our commitment to doing so.
"The Act is the first Scottish Act to make use of the special procedure specifically developed to deal with non-controversial law reform Acts from the SLC. To this end I would like to thank the SLC, and in particular Patrick Layden QC, Scottish Law Commissioner, for working with my office and Scotland Office over the course of the project. I also wish to express my thanks to the Lord Advocate for his support for the Bill throughout its Parliamentary passage and for the valued cooperation of officials at the Crown Office. Lastly I would like to extend my gratitude to the Law Society for Scotland who ensured that the Bill was thoroughly debated in the UK Parliament."
Published 2 May 2013