Press release
Advice on trade union facility time in schools published
Government sets out new expectations about paid time off for trade union duties in schools.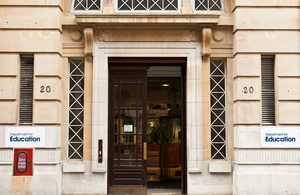 No teacher funded by the taxpayer should work full time on trade union work, according to advice published by the Department for Education today.
Trade union representatives are entitled to reasonable paid time off (known as facility time) to undertake duties such as negotiating with employers and representing members in grievance procedures. But the interpretation of what is reasonable varies widely, with some representatives spending 100% of their time on union work instead of teaching, costing the taxpayer many millions of pounds.
In response to a Department for Education call for evidence, 100% of headteachers who responded said they believed union representatives should spend at least half their time in the classroom. A majority of respondents felt no more than 30% of contracted working hours should be spent on trade union duties. Examples in the department's evidence show that it is perfectly possible for union representatives to carry out their main union duties in 1 day a week or less.
Many school leaders are already reviewing their facility time budgets in order to invest as much as possible in teaching and learning, but there are still too many examples of costs appearing very high and little accountability or transparency.
David Laws, Schools Minister, said:
Teachers are paid to work in the classroom. Clearly effective representation of teachers can play an important role in our schools, but taxpayers' money shouldn't be funding trade union representatives who spend little or no time actually teaching.

This advice has widespread support from the sector and will provide greater clarity, transparency and accountability about how this money is used, and how it benefits schools.
Employers, school leaders, teachers and the public were all involved in the call for evidence, and have overwhelmingly supported greater accountability and transparency for facility time spending.
The advice sets out the flexibilities available to schools and the government's expectations, as well as examples of good practice. It recommends that:
there should be no full-time union representatives
all union representatives should spend the majority of their time on their school-based jobs and be held accountable for the trade union duties carried out during facility time
employers should review and reduce costs where possible
The Department for Education will also set out new measures to gather information about facility time spending at a national level, and expects all employers to publish details of spending in this area.
The advice has been welcomed by school leaders.
Sir Michael Wilkins, Academy Principal and Chief Executive of Outwood Grange Academies Trust, said:
We are really happy to see such concise and clear guidance for schools and academies on the implications of trade union facility time.
Notes to editors
See the advice to schools published today.
The call for evidence ran between 19 September and 25 October 2013 last year, and received 247 responses. They showed widespread support for greater accountability and transparency. The overwhelming majority of respondents agreed that they should be efficient and should provide good value for money. See the full call for evidence.
Elsewhere across government, efficiencies in spending on facility time are being found. The civil service is removing all 100% trade union posts and has introduced a requirement for departments to publish details of facility time annually. The Department for Communities and Local Government has advised councils to save taxpayers' money by significantly scaling back the cost of facility time, limiting it to a set percentage of an organisation's pay bill.
DfE enquiries
Central newsdesk 020 7783 8300
General enquiries 0370 000 2288
Published 16 January 2014