Press release
Advice for local drivers in Dover
It is expected that the M20/A20 and M2/A2 approaches to Dover in the lead-up to Christmas will again be busy for tourists, freight and local traffic.
This news article was withdrawn on
This document is no longer current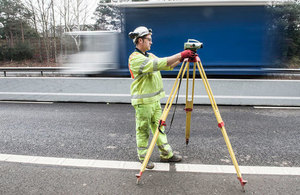 With Christmas approaching, Dover is expecting one of its busiest times of the year as international road hauliers pass through to supply British shops with goods for the festive season and UK families travel on holiday.
The Port of Dover, Highways England, Kent Police, and Kent County Council are advising local road users to consider alternative routes such as the B2011, A256 or A258 during busy times to avoid any potential congestion.
Following agreement with all partners, Highways England is putting out extra signs along the A256, A258 and at Whitfield roundabout, and drivers are also being advised to plan their journeys and allow plenty of time to travel.
As well as extra holiday and freight traffic, throughout this period, the Port of Dover and security services will continue to follow UK and French government requirements to deliver heightened security checks to keep the traveling public safe following the recent attacks in Paris.
General enquiries
Members of the public should contact the Highways England customer contact centre on 0300 123 5000.
Media enquiries
Journalists should contact the Highways England press office on 0844 693 1448 and use the menu to speak to the most appropriate press officer.
Published 9 December 2015