News story
Advantage West Midlands Non-Executive Directors continue to serve on the Board
Angela Maxwell OBE, Jas Bains, Sue Prince OBE, Gerard Coyne and Diane Rayner will serve from 14 December 2010 until the RDA closes. The Minister…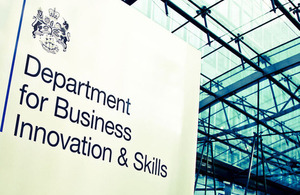 Angela Maxwell OBE, Jas Bains, Sue Prince OBE, Gerard Coyne and Diane Rayner will serve from 14 December 2010 until the RDA closes.
The Minister commented:
---
"As we move toward a new framework for our regional economies, it is important that the development agencies are equipped with the leadership to ensure the transition period is a smooth one.
"The skills and experience of these board members will be a valuable asset during this time and I hope they will continue to work with us to ensure an efficient evolutionary process."
---
Sir Roy McNulty, Chairman of Advantage West Midlands said:
"It's good that these Board members have agreed to continue to serve. Their support, acumen and advice will be greatly appreciated during this most challenging of times.
"The Board's chief priority now is to make sure the baton is not dropped in the changeover from the Agency to Local Enterprise Partnerships."
Notes to Editors
Regional Development Agency non-executive Board member posts
attract a remuneration of £8,666 per year for a minimum time commitment of two days per month.
RDAs are business led organisations, promoting and co-ordinating
economic growth and development, enterprise and regeneration.
The Coalition Government has announced the creation of local enterprise partnerships to replace RDAs. On that basis the decision was made not to continue with further Board member recruitment. The continued terms are necessary to ensure that the RDA Chairs are able effectively to manage their Board membership up until closure, and that membership does not fall below the minimum requirement of eight, as stated in the Regional Development Agencies Act 1998. Final closure of the RDAs is likely to be completed by March 2012 following legislation.

The original appointments were made following open competition in accordance with the requirement set down in the Commissioner for Public Appointments Code of Practice. All appointments are made on merit and political activity plays no part in the selection process. However, in accordance with the original Nolan recommendations, there is a requirement for appointees' political activity (if any declared) to be made public.

Angela Maxwell, Jas Bains and Sue Prince have not declared any political activity undertaken during the past five years. Gerard Coyne is an active member of the Labour Party, he is a member of the National Policy Forum and Chair of the West Midlands Trade Union / Labour Party Liaison Committee. Diane Rayner is an active member of the Liberal Democrat Party fighting and winning seats for the past 40 years.

Sue Prince is one of the Commissioner's for the Commission for Rural Communities which attracts a remuneration of £325 a day, her time commitment is 2.5 days a month. Gerard Coyne is a member of the Stoke Transition Board attendng monthly meetings and he does not take his remuneration. Angela Maxwell, Jas Bains and Diane Rayner do not hold any further ministerial public appointments.
Biographies:
Jas Bains **is CEO Ashram Housing Association, which he has helped transform into a multi-national award winning organisation for its work on tackling social and economic inequalities. He was appointed to the AWM Board in December 2007 and is the Board champion for social enterprise and a passionate advocate of a new economic order where value equals 'more than profit'. ** **Jas has been instrumental in the development of the successful Wolverhampton India Trade Partnership. He is also the founder of www.socialbreakfast.org which is a not-for-profit social networking website. This site provides a space for young people to express their views on the issues that matter to them and offer them the opportunity to engage with policy makers and politicians. The site encourages self expression and is not tied to any one particular political party, belief, opinion or faith. **
Gerard Coyne is the Trade Union representative on the Board of Advantage West Midlands and has been Regional Secretary of the Transport and General Workers Union since May 2001. He is currently Chair of the Midlands TUC.**
A graduate of the University of Birmingham, he has worked for the TGWU for 18 years in research and industrial roles, representing 138,000 members across both the private and public sectors. As Chair of the West Midlands Trade Union Congress, Gerard has taken an active role in pursuing the lifelong learning agenda on behalf of trade union members. He was elected as a Labour representative for the Longbridge ward in 1995 and served for seven years at Birmingham City Council, during which time he chaired the economic development and regeneration committees.
Angela Maxwell OBE **achieved prominence as one of the region's most dynamic entrepreneurs as Commercial Director of Fracino, the UK's only manufacturer of espresso and cappuccino coffee machines. Angela was honoured by the Queen in 2007 at Buckingham Palace, in recognition of her outstanding contribution to UK trade and industry. She is a former European adviser to UK Trade & Investment and a regional ambassador for the Women's Enterprise Network. Angela heads Acuwomen which is the UK's first company to bring an all-women group of entrepreneurs under one roof. Angela was awarded an OBE in 2010 for services to business in the West Midlands.**
Sue Prince OBE **and her husband Terry run Beechenhill Farm, an organic dairy farm in Ilam, which provides bed and breakfast and award-winning self catering and wheelchair-accessible cottages. She is also Project Consultant to the Foods from the Peak District project, which includes a group of independent producers. Sue is an artist and book illustrator creating 'organic' art works celebrating country life. She also sits on the Peak District National Park Authority, the National Trust Estates Panel and the North Staffordshire Regeneration Zone. As a Sustainability Champion on the Board, Sue works to encourage and support sustainable, collaborative and rural business developments and was awarded an OBE for services to farming and tourism in the Midlands.**
Diane Rayner **is a former member of Worcestershire County Council and previously leader of Malvern Hills District Council. She is a governor of Evesham and Malvern Hills Colleges. Diane is from a small business background and has run two businesses of her own with experience from across the UK, Europe and the Caribbean. Until retirement, Diane was Policy Development Officer for the West Midlands for the Federation of Small Businesses. She is a Diversity Champion on the Board of AWM with particular interest in social enterprise, economic inclusion and the voluntary and community sectors.**
Notes to Editors
Contact Information
Name BIS Press Office Job Title
Division COI Phone
Fax
Mobile
Email NDS.BIS@coi.gsi.gov.uk
Published 26 July 2010