News story
Additional 2000 tickets released for Diamond Jubilee Celebration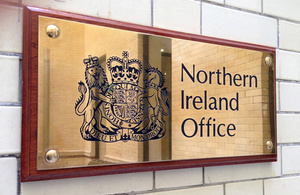 Following the enormous public demand for tickets to the Diamond Jubilee Celebration to be held in the grounds of Stormont Estate on Wednesday 27 June, the Northern Ireland Office has been able to issue a further 2000 free tickets.
The tickets will be available from 1300hrs on Friday 22nd June from TICKETMASTER on-line at www.ticketmaster.co.uk and via the Ticketmaster 24hr Call Centre (0844 2774455).
Due to time constraints, it is recommended that patrons who choose to apply on-line should use the Ticketfast Print At Home ticket delivery.
Tickets will be Free of Charge. Tickets will NOT be available through Ticketmaster Outlets.
A maximum of two tickets per application will be allocated on a first come first served basis.
Notes to Editors
We would be grateful if you could help us inform Ticketmaster ticket holders of the following:
Tickets/Access
Access to this event is by ticket only. Children aged under 4 years do not require a ticket.
To ease access, holders of tickets issued by Ticketmaster are required to use the main entrance to the Stormont Estate via the Prince of Wales entrance on the Upper Newtownards Road.
Non-Ticketmaster ticket holders should enter via the Massey Avenue entrance.
Security measures on entry will be in place and all ticket holders, with the exception of children under 18, are required to bring a form of identification.
Baggage should be kept to a minimum. Umbrellas, folding chairs and cameras are permitted.
No dogs (except guide dogs).
Timing
Entrance gates open at 10:30am and guests may arrive until 2pm.The event will continue until approximately 6pm.
Programme ofEntertainment
Entertainment will include brass bands and other music, amusements, bouncy castles, sporting challenges and local exhibitors.
What to wear
This is an informal outdoor event and casual dress is appropriate. Guests should bring waterproof clothing.
Refreshments
Guests may bring a picnic. Food and refreshments are available to purchase on site.
Glass bottles or cans are not permitted.
Alcohol is not permitted.
How to get there:
Guests are encouraged to use Public Transport. No parking will be available within the Estate or at the entrances. Given the numbers at this event traffic congestion is expected in the area and guests are asked to bear this in mind when making their travel arrangements.
A free shuttle bus service will be available from Laganside Bus Centrefrom 10:30am.
Park and Ride facilities will be available at D3, Sydenham Road and at Ikea in the Harbour Estate area. Departure to Stormont will also begin at 10:30am. Translink coaches are wheelchair accessible.
Roads Service will display signage to assist the public.
The 4A Ulsterbus bus service from the city centre will also be in service as normal, normal bus charges will apply.
Exceptionally, schools/organisations travelling by minibus/coach will be able to drop passengers at Massey Avenue entrance to the Estate.
Published 21 June 2012