News story
Action to boost employee ownership sector approved
The Government wants to help boost the size of the sector, by ensuring employee ownership is more widely understood and easier to establish.…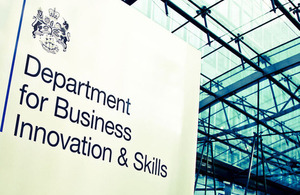 The Government wants to help boost the size of the sector, by ensuring employee ownership is more widely understood and easier to establish.
Responding to recommendations made by Graeme Nuttall in his independent review of the sector, the Government has approved plans for a range of activity that will help to grow the number of businesses that become or convert to the employee ownership model.
The plans include assessing whether to establish an independent Institute for Employee Ownership, an 'off the shelf' model for setting up an employee owned business, work to examine the guidance on tax issues relating to employee ownership, a guide for staff and employers to request and agree an employee ownership takeover and work with the John Lewis Partnership to examine the barriers to funding for private sector employee owned companies.
Deputy Prime Minister, Nick Clegg said:
"Businesses that are owned by their employees produce more, grow faster, keep their workforce happier, and pay staff more fairly. Graeme's report makes clear that sharing ownership means sharing success.
"Our economy suffered a massive heart attack - now we have to build our strength back up. To pump oxygen back into the system and get Britain working again, it's got to be out with the old and in with a new more diverse economy that is fairer for all.
"The plans we're setting out today are the first important steps in boosting this burgeoning sector."
Jo Swinson said:
"There has never been a more important time to create the right environment for different ways of running a business. Employee-owned companies have proved to be flexible and resilient during tough times, and have a clear role to play in securing long-term economic growth. So I'm very pleased to be taking the first steps to implementing Graeme Nuttall's recommendations.
"Graeme set us a challenging agenda and our response is equally ambitious. We will address one of the biggest barriers to take-up of employee ownership schemes: awareness that it exists. We will improve access to the information and help people understand what they need to start up and run an employee-owned business. And we will clarify what practical steps businesses need to take in order to become employee owned, as well as encouraging more business owners to consider it. We will develop helpful toolkits for employees to use when requesting employee ownership, and to help employers when agreeing to it. Our action plan will boost employee ownership in the UK and help give new impetus to a business model we want to see thriving across the country."
The Nuttall review 'Sharing Success' was published in July and set out detailed evidence to show that employee ownership offers significant economic and social benefits, including enhanced business performance and improved employee well-being. However, it found that a lack of awareness and a widespread perception that employee ownership is difficult or burdensome was preventing more businesses from establishing it.
The review made 28 recommendations for Government and others, aimed at raising awareness of employee ownership, increasing the resources available to support it and reducing the complexity associated with it.
Cabinet Office Minister Francis Maude said:
"This response is fantastic news; we know that employee ownership can drive higher productivity, efficiency and innovation. That's why the Cabinet Office is encouraging public sector workers to form employee owned businesses, setting free their entrepreneurial talents. Since 2010 the number of public service mutuals has increased six-fold. We know that very few want to go back because they now have much more freedom to do their jobs how they know is best."
Today's response sets out an action plan for Government and key stakeholders to deliver Graeme's key recommendations, and includes commitments to:
establish an Implementation Group, chaired by the Minister for Employment Relations, bringing together representatives from Government, business and professional services and the employee ownership sector to drive the implementation programme. The group will hold its first meeting in November

work with the employee and wider mutuals sector, assessing the viability of setting up an independent Institute to raise awareness of employee ownership and provide a single point of contact for information and advice to help companies establish it

work with mainstream organisations including the Institute of Chartered Accountants in England and Wales (ICAEW) and the Law Society to develop simple 'off the shelf' templates for setting up an employee owned company and make these readily available through professional advisors, including working with HMRC to consider the guidance available on tax issues

organise a Ministerial programme of regional activity to raise awareness of employee ownership

work with the John Lewis Partnership to examine the barriers to funding for private sector employee-owned companies
The Government has also asked Graeme Nuttall to publish a 'one-year on' report on the progress made on delivering his recommendations.
Alongside the response, the Government has launched a consultation on amending company law to reduce the regulatory burden faced by employee owned companies. In businesses where employees hold a direct stake, the company often needs to buy back shares when staff leave and re-distribute them to new starters. These buy-back arrangements must comply with a number of Company Law provisions, which the Nuttall review concluded were overly burdensome. It recommended the Government simplified these provisions to encourage the further uptake of direct employee ownership.
The consultation closes on 16 November 2012.
**Notes to editors:
**
---
The Government's response and consultation on de-regulating share buy-backs is available at: http://www.bis.gov.uk/policies/business-law/employee-ownership

Sharing Success: The Nuttall Review of Employee Ownership can be found at: http://www.bis.gov.uk/policies/business-law/employee-ownership

A call for evidence on a proposed new 'Right to Request' employee ownership was launched alongside the publication of the Nuttall report in July. All respondents were in favour of the principle but most were against the idea of a statutory 'Right to Request' because of the potential regulatory burden on business and employer. Government will now work with ACAS and others to develop a guide to support employers and employees interested in requesting and agreeing employee ownership.

Employee ownership refers to the employees of a company having a significant and meaningful stake in their company and, in particular, owning shares that amount to a substantial or controlling stake. Employee ownership can take one of three forms:
Direct employee ownership - using one or more share plans, employees become individual owners of shares in their company;

indirect employee ownership - shares are held collectively on behalf of employees, normally through a benefit trust;

combined direct and indirect ownership - a combination of individual and collective share ownership.

In 2009 there were about 200 UK businesses wholly or significantly owned by their employees, with a combined annual turnover of approx £25bn and 110,000 employees. By 2011 this had grown to 250 UK businesses with an annual turnover of approx £30bn and 130,000 employees.

The Treasury is conducting an internal review of the role of employee ownership in supporting growth and options to remove barriers, including tax, to its wider take-up. The review is due to report by Autumn Statement.

The Government's response to the Nuttall review complements the work the Cabinet Office is doing on mutuals in the public sector. Minister for Cabinet Office Francis Maude is leading the work to provide opportunities for public sector staff to spin out of government to form their own employee owned businesses. The Mutuals information Service provides advice and guidance as well as establishing new rights for public servants to form mutuals in every government department.

The Government's economic policy objective is to achieve 'strong, sustainable and balanced growth that is more evenly shared across the country and between industries.' It set four ambitions in the 'Plan for Growth' (PDF 1.7MB), published at Budget 2011:

To create the most competitive tax system in the G20

To make the UK the best place in Europe to start, finance and grow a business

To encourage investment and exports as a route to a more balanced economy

To create a more educated workforce that is the most flexible in Europe.
Work is underway across Government to achieve these ambitions, including progress on more than 250 measures as part of the Growth Review. Developing an Industrial Strategy gives new impetus to this work by providing businesses, investors and the public with more clarity about the long-term direction in which the Government wants the economy to travel.
BIS's online newsroom contains the latest press notices and speeches, as well as video and images for download. It also features an up to date list of BIS press office contacts. See [http://www.bis.gov.uk/newsroom](http://www.bis.gov.uk/newsroom) for more information.
Notes to Editors
Contact Information
Name BIS Press Office Job Title
Division Department for Business, Innovation & Skills Phone
Fax
Mobile
Email bispress.releases@bis.gsi.gov.uk
Name Syeda Hasnain Job Title
Division Department for Business, Innovation & Skills Phone 020 7215 6245 Fax
Mobile
Published 30 October 2012