Press release
Action on compensation claims for slips and trips
Schools, businesses and councils will all be helped by the latest stage of major law changes turning the tide on compensation culture.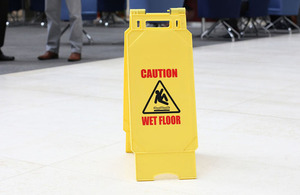 From today (Wednesday 31 July 2013) uncontested claims for compensation for "slips and trips" and other injuries at work or in a public place can be handled by a simpler and faster legal system. This will also reduce the amount defendants, or their insurers, have to pay in legal fees.
The change will make no difference to the amount of compensation victims will receive for genuine claims but will reduce the unnecessary additional bills faced by insurers and enable them to pass on savings to customers.
The move is part of a package of reforms brought in by Government this year to tackle the high cost of insurance premiums. These have been blamed for schools, businesses, community groups, councils and others being unable to stage activities where there is any risk of someone getting injured, as well as increasing costs for drivers.
Other elements in the package include:
No win, no fee deals transformed so lawyers can no longer double their fees if they win, at the expense of defendants and their insurers.
A ban on "referral fees" paid between lawyers, insurers, claims firms, garages and others for profitable claims. Recent figures showed more than 700 claims firms had closed following the ban.
Claims firms banned from offering upfront cash incentives or gifts to people who bring them claims. Recommend a friend deals also banned, along with contracts agreed only over the phone.
The fees lawyers charged insurers for processing basic, uncontested claims for compensation for minor injuries suffered in road accidents reduce by more than half – from £1,200 to £500.
Justice Minister Helen Grant said:
"We are turning the tide on the compensation culture which has pushed up the cost of insurance for drivers, schools and business – and taking another important step to reducing the cost of living for ordinary people."
Today's changes mean that uncontested claims for compensation of up to £25,000 for injuries at work ("employer liability") or in public places ("public liability") can be handled using the out-of-court Claims Portal which has been successfully used by lawyers and insurers to settle similar claims for road accident injuries. From today the system will also start handling claims of up to £25,000 for road accident injuries (the previous maximum was £10,000).
Notes to Editors:
Changes to no-win no-fee deals and the ban on referral fees were brought in on 1 April 2013 as part of the Legal Aid, Sentencing and Punishment of Offenders Act 2012.
For more information contact the Ministry of Justice press office on 0203 334 3536. Follow us @MoJPress
Published 31 July 2013