World news story
Acting High Commissioner welcomes back Chevening Scholars
Speaking at an event to welcome back two recipients of the 2014/15 Chevening scholarships, Acting British High Commissioner Lucy Joyce said;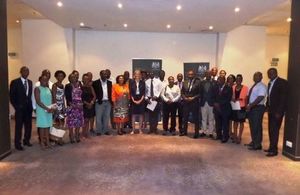 "Welcome, and thank you for coming this evening. I am delighted to be hosting this event to welcome two Zambians who went to study at UK prestigious universities. These are Peter Nawa and Virginia Hamwale - welcome. Peter and Virginia received a fully funded scholarship each to study for a master's degree in the UK under the Chevening Scholarships Programme for the academic year 2014-2015. Virginia studied Librarianship at University of Sheffield and Peter studied Globalisation and Development at University of Sussex.
"For many years now, the UK has been working alongside Zambia to develop young leaders and support the self-development of individuals who want to make positive change in their communities, workplaces and their country.
"Chevening Scholarships are an important element of the British Government's programme to promote greater capacity for the next generation of Zambian leaders and to further develop the excellent relationship between Zambia and the UK. Improved relations are in the interests of all of us.
"Chevening Scholarships are for talented people who have been identified as potential future leaders across a wide range of fields, including politics, business, the media, civil society, religion, and academia. The British High Commission aims to build lasting relationships between people in the UK and Zambia, and increase the appreciation of what the UK has to offer and what we have achieved.
"Chevening is the UK's flagship scholarship scheme administered in Zambia by the Association of Commonwealth Universities (ACU) on behalf of the Foreign and Commonwealth Office. Chevening and its predecessor schemes have been operating in Zambia since 1985 and over 150 Zambians have studied in the UK under the Chevening scheme to date. We hope to see more Zambians study in the UK, now that we have expanded our Chevening Scholarship scheme here nine-fold.
"I am very pleased that some Zambian Chevening Scholars are now serving in top positions in Zambia and elsewhere in the world. Some examples include Justice Florence Lengalenga, High Court Judge (who is with us tonight); Honourable Stephen Kampyongo, Minister of Local Government and Housing, and Chibamba Kanyama, former Zambia National Broadcasting Corporation Director General and now working at the International Monetary Fund.
"I am certain that Peter and Virginia will join the list of Zambian Chevening Alumni who are using their skills and knowledge to contribute significantly to Zambia's development. The alumni are a very important community to the Foreign and Commonwealth Office and we value your existence. May I take this opportunity to encourage the Alumni to form a strong and vibrant Zambian Chevening Alumni Committee and come up with creative ideas to promote networking and the development of your country.
"There some good things that the Alumni have done already. They were part of the pre-departure event last year and held a Chevening Fair on the Copperbelt to help potential candidates to apply for Chevening scholarships. You have also assisted with interviews for Chevening applicants. I look forward to seeing more of such activities, and would like to hear your ideas.
"I would now like to conclude by presenting certificates to Peter and Virginia."
Published 3 December 2015