World news story
Acting High Commissioner speech at the anti-diarrhoea kit launch
Speaking in Lusaka at the launch of Kit Yamoyo, an anti-diarrhoea kit, Acting High Commissioner Lucy Joyce said: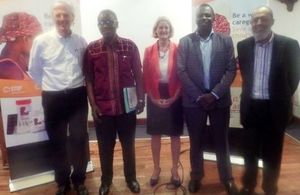 "Good evening everyone and welcome to the British High Commission.
"Now let me welcome our Guest of Honour, the Honourable Minister of Health Dr Kasonde. I would also like to welcome representatives from the Cooperating Partners; and from COMESA – the Common market for Eastern and Southern Africa; representatives from the Private Sector including the Managing Director from Shoprite Mr Charles Bota; and representatives from SABMiller; the Country Director of the Clinton Health Access Initiative; and representatives from other NGOs and businesses joining us here tonight.
"I would also like to give a special welcome to Simon Berry, the founder of ColaLife, and to their local partners Keepers Zambia Foundation, Mr John Msimuko, and Pharmanova, Mr Mohmed Seedat.
"I am delighted that we are all here today to launch the Kit Yamoyo in Shoprite stores throughout the country. Kit Yamoyo – the 'Kit of Life' - is an anti-diarrhoea kit, which was developed and tested in Zambia by ColaLife – a small UK NGO - with the help of funding from the UK's Department for International Development (DFID). So it is appropriate that we celebrate this next big step in Kit Yamoyo's life here at the British High Commission. I think tonight's event is also a celebration of Simon and his wife Jane's hard work and persistence, and of the long partnership between ColaLife and DFID.
"This launch marks the availability of Kit Yamoyo in Shoprite stores nationwide. This is of huge significance as only a few – less than 1% of children who need it – get this simple treatment for diarrhoea, which is the third biggest killer of children under 5 in this country.
"ColaLife has been working with and through local partners in Zambia since 2009, when – inspired by Coca-Cola's ability to reach even small shops in remote villages – they came to Zambia on a fact finding visit.
"One of the first people ColaLife contacted was Dr Bonface Fundafunda, then advisor to the Minister of Health and now Director at Medical Stores Limited. MSL played a key role in early trials and is now set to help distribute Kit Yamoyo.
"That first visit by ColaLife was the start of a close relationship between ColaLife and Zambia's Ministry of Health, who remain amongst the most important and influential supporters.
"I would like to recognise the role of the Ministry in supporting ColaLife. Since ColaLife's first visit in 2009, the Ministry has provided advice, policy guidance, and also great vision, in backing the first children's diarrhoea kit in the world designed specifically for easy use by customers in their home, wherever they may live.
"I also mentioned the long-standing relationship with DFID. DfID agreed to co-fund - together with companies such as Johnson & Johnson, SABMiller, and with significant support from COMESA - the first trial of the novel anti-diarrhoea kit and its distribution model. It is wonderful to see some of these early supporters here tonight, including the Deputy Secretary General of COMESA, Dr Kipyego Cheluget, as well as Panji Banda, one of ColaLife's original mentors from SABMiller – who also kindly supplied the refreshments we are enjoying.
"That first trial, overseen by the Ministry and by UNICEF, ran from 2011-2013. It produced a lot of learning points, but most importantly, increased children's use of Oral Rehydration Salts and Zinc for diarrhoea,from only 1% to 45%.
"Based on these results, DFID's support for Kit Yamoyo is continuing – and is now focusing more on helping to embed Kit Yamoyo in the Zambian market. Through the Scaling Up Nutrition (SUN) Fund, ColaLife and its local partner Keepers Zambia Foundation, receive a grant to target 14 of the most under-served districts in Zambia to ensure availability of Kit Yamoyo in rural health centers.
"The SUN Fund is a $27m multi-donor fund that supports the Government of Zambia to implement its "1000 Most Critical Days Programme". This national programme aims to reduce the very high levels of chronic undernutrition in Zambia, and its contribution to high infant and child mortality rates.
"A special welcome to the representatives from to co-funders of the SUN Fund - Sweden and Ireland - and to the new country director of CARE Zambia, who are responsible for managing the Fund, Mrs Geraldine Zwack.
"One other way in which DFID is supporting Kit Yamoyo and its distribution is through "UK Aid Direct" which enables CSOs to receive matched funding to widen their reach and impact. The focus of this project is on Lusaka Province, and we are glad to welcome here tonight Lusaka's Provincial Medical Officer, Dr Kennedy Malama.
"This new partnership with Shoprite that we are launching here today adds another partner to the list of Kit Yamoyo supporters, and another channel through which the people of Zambia will be able to access this simple, but life-saving treatment.
"I would now like to hand over to Mr Simon Berry, one of the founders of ColaLife, to give us an overview of the Kit Yamoyo project. "
Published 30 November 2015