World news story
Acting Governor meets UN refugee delegation
Acting Governor, Anya Williams, met UNHCR representatives Buti Kale and Simone Schwartz-Delgado today.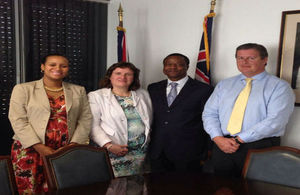 As a signatory to the 1956 Convention for Protection of Refugees, the Turks and Caicos Islands (TCI) has a number of obligations and requirements to be fulfilled.
The UNHCR (United Nations High Commissioner for Refugees) has previously provided training and advice to the TCI on dealing with asylum and other related matters and Mr Kale and Ms Schwartz-Delgado are visiting the islands to discuss more areas for possible collaboration.
The UNHCR delegation is on TCI from February 4th-7th, 2014 and is also scheduled to meet the Acting Premier Hon. Akierra Missick, Minister of Border Control Hon. Donhue Gardiner and other enforcement/protection agencies such as the Royal Turks and Caicos Police Force and the Human Rights Commission.
The regional office in Washington D.C. oversees the U.S. and 22 Caribbean countries including: Anguilla, British Virgin Islands, Cayman and the Turks and Caicos Islands.
Published 4 February 2014