Achieving the strategic edge through people: 2040
Innovative ideas are being sought for a multi-million pound programme looking at the capabilities our people will need in defence.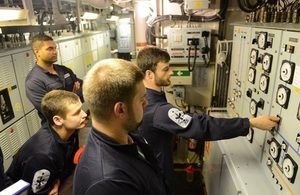 A multi-million pound science and technology (S&T) research programme is being launched by the Ministry of Defence (MOD) looking at the capabilities its people will need to have by 2040.
The programme will include world-leading and innovative research and develop ways to fundamentally change the way in which we identify, recruit, develop, train, operate and retain people.
MOD aims to bring together regular and reserve forces, contractors and civilians into a world-leading effective, dynamic and enduring future force.
'Achieving the Strategic Edge Through People 2040' or SETP2040 is a four-year programme, valued at around £12 million. It is being led by the Defence Human Capability Science and Technology Centre (DHCSTC). The DHCSTC is a centre of excellence for Human Sciences and is an open framework of leading organisations from across academia and industry; embracing small and medium-sized enterprises and subject matter experts.
Dstl's Dr John Robertson, Human Sciences Programme Manager, says:
SETP2040 is a new programme. It represents a deliberate shift away from focussed defence research into a more innovative, radical and game-changing space. We are looking for new concepts, innovative approaches and world-leading science that can support change to ensure we deliver a fit-for-purpose defence workforce for 2040.
Published 15 May 2015