World news story
Accessing British venture capital from Uruguay
British expert in Innovation and Entrepreneurship, Hugh Parnell visits Uruguay to highlight innovation and entrepreneurship.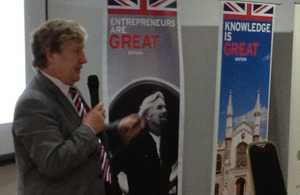 Hugh Parnell specializes in access to finance, business development, and early stage growth with a focus on environmental and energy companies. He also has many years of experience in University-Business collaboration. During his visit, Parnell met with universities, the government and organizations that support entrepreneurs.
He also gave a conference in LATU (Laboratorio Tecnológico del Uruguay): "The best way to access venture capital in the UK". The event was organized by the British Embassy in Montevideo and Ingenio, an incubator organization which supports start-ups in Uruguay.
Deputy Head of Mission, Rachel Brazier, and director of Ingenio, Rafael García, gave opening words. Both highlighted the opportunities that UK and Uruguay have in partnering in the world of innovation and entrepreneurship.
During the conference, Parnell gave his three top tips for attracting investment:
You only get one chance to make a first impression: make sure you are succinct and clear.

Understand what the investor wants. "He doesn't want to have all the technical details of your innovation, (…) he needs to know whether or not he can believe that we will make money out of you making money, if you succeed in developing your business".

Thinking carefully about how you can scale-up your business. "Investors these days have a lot of choices, they can decide not to invest in your company very easily, but if you have a way of persuading him that you can scale-up rapidly, there is a much greater chance that he would want to invest in your business".
Published 9 April 2013