News story
Access to Education report welcomed
Simon Hughes was appointed as the Advocate for Access to Education by the Prime Minister and Deputy Prime Minister in December 2010 and was …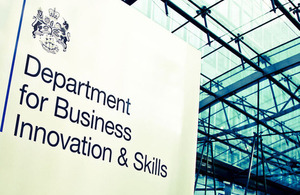 Simon Hughes was appointed as the Advocate for Access to Education by the Prime Minister and Deputy Prime Minister in December 2010 and was asked to report on how to promote access to further and higher education.
Business Secretary Vince Cable said:
"Simon Hughes's report has given the Government an invaluable insight into young peoples' reactions to the higher education reforms after extensive consultation with them and their families. It will help us meet our goal of improving access to higher education.
"The student finance system being introduced in 2012 is fairer for students and affordable for the country. Simon's report has underlined how important it is for everyone that works with young people to make sure they understand the changes and can explain them to ensure no one who is qualified and wishes to undertake Higher Education is put off."
Universities and Science Minister David Willetts said:
"Education is key to transforming lives, delivering social mobility and securing our nation's future. So we agree with Simon that young people must be supported in making well informed decisions on university entrance, apprenticeships and other opportunities.
"Our student finance campaign and the new Independent Taskforce on Student Finance have been focussed on helping young people and those advising them. But the job is far from complete and I warmly welcome Simon's advice on how we can improve the reach of such work."
Notes to Editors:
---
Simon Hughes letter of appointment can be viewed at http://www.dpm.cabinetoffice.gov.uk/sites/default/files_dpm/resources/Joint-letter-by-the-Prime-Minister-and-Deputy-Prime-Minister-28122010.pdf

BIS's online newsroom contains the latest press notices, speeches, as well as video and images for download. It also features an up to date list of BIS press office contacts. See http://www.bis.gov.uk/newsroom for more information.
Notes to Editors
Contact Information
Name BIS Press Office Job Title
Division COI Phone
Fax
Mobile
Email NDS.BIS@coi.gsi.gov.uk
Name Michael Gibbs Job Title
Division Department for Business, Innovation and Skills Phone 020 7215 1635 Fax
Mobile
Published 21 July 2011