Press release
Acas Council Members re-appointments confirmed
Professor Linda Dickens, Dr Mary Bousted and John Hannett re-appointed as Council Members to Acas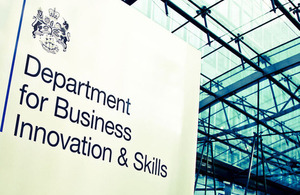 Employment Relations Minister Jo Swinson today announced the re-appointments of Professor Linda Dickens, Dr Mary Bousted and John Hannett as Council Members to the Advisory, Conciliation and Arbitration Service (Acas). Their re-appointments are for a further three-year term starting 1 May 2013.
Employment Relations Minister Jo Swinson said,
I am delighted to be able to confirm the re-appointments of Professor Linda Dickens, Dr Mary Bousted and John Hannett as Acas Council Members.
Their wealth of experience in an ever-changing employment environment will be invaluable in helping Acas continue its key role in providing workplace advice and guidance and supporting businesses and employees to resolve problems at work.
I am pleased that they have agreed to stay on as Council Members and look forward to continuing to work with them.
Notes to editors:
1.Appointments have made in accordance with the Office of the Commissioner for Public Appointments (OCPA) guidelines.
2.All appointments are made on merit and political activity plays no part in the selection process. However, in accordance with the original Nolan recommendations, there is a requirement for appointees' political activity (if any declared) to be made public
3.Acas is an independent statutory body governed by a Council of twelve consisting of the Acas Chair, employer, trade union and independent members. It aims to improve organisations and working life through better employment relations. They provide up-to-date information, independent advice, high-quality training and work with employers and employees to solve workplace problems and improve performance. More information can be found at www.acas.org.uk.
Council member biographies:
Professor Linda Dickens
Linda Dickens is Emeritus Professor of Industrial Relations at the University of Warwick and a senior member of Warwick's Industrial Relations Research Unit. Linda has held visiting appointments at universities in Australia and in the USA. She was Vice Chair of the Industrial Law Society; President of the British Universities Industrial Relations Association and a member of the Executive Committee of the International Labour and Employment Relations Association. Among other roles, Linda served as a Specialist Advisor to the House of Commons Select Committee on Employment, chaired the London Underground Wages Board, and was Chair of the Local Government Pay Commission.
She is a Chartered Fellow of the Chartered Institute of Personnel and Development and a Fellow of the Royal Society of Arts. She was awarded the MBE in 2002 for services to employment relations.
Linda is Deputy Chairman of the Central Arbitration Committee and a member of Acas panel of Arbitrators and Mediators. As a member of Acas Council, among Linda's roles are sitting as a member of the Human Resources Committee and on the Acas Research Funding Panel.
Dr Mary Bousted
Dr Mary Bousted is General Secretary of Association of Teachers and Lecturers (ATL). Mary sits on the executive committee of the Trades Union Congress (TUC) and is a regularly contributor to newspapers and education journals. Mary previously worked in higher education at York University, Edge Hill University and at Kingston University where she was Head of the School of Education. Prior to this Mary was a Head of English, and English teacher in comprehensive schools in North London.
As an Acas Council member, Mary has been Chair of the Audit Committee since 2011 and has assisted with the drafting of the forthcoming Code of Practice on settlement agreements.
John Hannett
John Hannett is the General Secretary of the UK's fourth largest union, Usdaw. John sits on both the Executive Committee and the General Council of the TUC and represents the interests of Usdaw members on a number of Government Commissions, including the Low Pay Commission.
John has also served on the Women and Work Commission, the Standing Commission on Carers and the Good Work Commission. Most recently, he has been appointed as President of UNI-Europa Commerce and will serve for a three year term.
As an Acas Council member, John sits on the Human Resources Committee and has assisted in the drafting of the new Code of Practice on the right to request flexible working.
4.The government's economic policy objective is to achieve 'strong, sustainable and balanced growth that is more evenly shared across the country and between industries'. It set four ambitions in the 'Plan for Growth' (PDF 1.7MB), published at Budget 2011:
to create the most competitive tax system in the G20
to make the UK the best place in Europe to start, finance and grow a business
to encourage investment and exports as a route to a more balanced economy
to create a more educated workforce that is the most flexible in Europe.
Work is underway across government to achieve these ambitions, including progress on more than 250 measures as part of the Growth Review. Developing an Industrial Strategy gives new impetus to this work by providing businesses, investors and the public with more clarity about the long-term direction in which the government wants the economy to travel.
Published 1 May 2013