News story
ACAS Chair re-appointed
Mr Davey said: "I am pleased to announce that Ed Sweeney will serve a new term as Chair. He has already made a valuable contribution to the…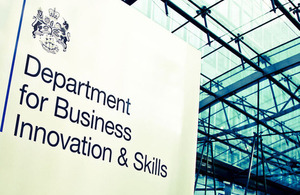 Mr Davey said:
"I am pleased to announce that Ed Sweeney will serve a new term as Chair. He has already made a valuable contribution to the work of the Acas Council and I was very keen to see this continue.
"In the current economic climate, relationships between managers and employees can become fraught. Now more than ever, Ed and Acas have a vital role to play in encouraging better industrial relations."
Ed Sweeney said:
"I am delighted to be reappointed as the Chair of Acas. The last three years have been particularly busy for Acas as we helped businesses and their workforces face the challenges posed by the recession.
"As we pull out of the recession our services from advising on what employment legislation means in practice to resolving high profile workplace disputes will be more vital than ever in meeting the challenges of ensuring economic growth."
Mr Sweeney will serve a second three year term following the completion of his current appointment on 30 September 2010.
---
Notes to Editors
1) Acas aims to improve organisations and working life through better employment relations. They provide up-to-date information, independent advice, high-quality training and work with employers and employees to solve workplace problems and improve performance. More information can be found at** **www.acas.org.uk. **It is an independent statutory body governed by a Council of twelve consisting of the Acas Chair, employer, trade union and independent members.
2) All appointments are made on merit and political activity plays no part in the selection process. However, in accordance with the original Nolan recommendations, there is a requirement for appointees' political activity (if any declared) to be made public.
3) Ed Sweeney biography:
Appointed Chair of the Acas Council on 1 November 2007. He graduated from Warwick University in 1976 with an honours degree in Politics & Law, and took an MSc (Econ) in Industrial Relations and Labour Law from LSE in 1977. Later that year he joined the National Union of Bank Employees (NUBE) as Research Officer, followed by a wide range of financial posts.
Ed Sweeney was elected Deputy General Secretary of the Banking Insurance and Finance Union (BIFU) in 1991 and General Secretary of BIFU in 1996. Following the formation of UNIFI in May 1999, Ed was elected General Secretary of UNIFI in 2000. After UNIFI was transferred into Amicus, he was appointed as Deputy General Secretary of Amicus (now known as the Amicus Section of Unite).
In addition to being Chair of the Acas Council, Mr Sweeney is currently a member of the Board for Ruskin College, Oxford, and was an independent reviewer on Occupational Pensions De-regulation Review, he is a visiting professor at Leeds University business school and holds an honorary doctorate from Brighton University.
Previous experience:
Member of the TUC General Council and TUC Executive Committee
Chair of the TUC International Development Group
Joint Chair of DFID/TUC Forum
Member of the TUC Superannuation Committee
Member of the TUC Learning and Skills Task Group
TUC Skills for Life Advocate
Member of the Trade Union Sustainable Development Committee
Member of the Council of the Institute of Employment Rights and the Council for Unions 21
Member of the British Delegation to the WTO Ministerial Conferences in 2001 and 2003
Member of Board for Joint Training Limited
---
BIS' online newsroom contains the latest press notices, speeches, as well as video and images for download. It also features an up to date list of BIS press office contacts. See http://www.bis.gov.uk/newsroom for more information.
Notes to Editors
Contact Information
Name BIS Press Office Job Title
Division COI Phone
Fax
Mobile
Email NDS.BIS@coi.gsi.gov.uk
Published 28 July 2010