News story
Academies funding: training videos and webinars launched
An online resource aimed at academies and free schools to help them understand the impact of the funding changes for 2015 to 2016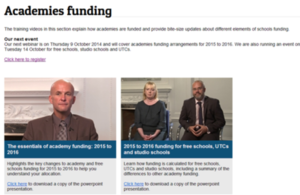 Following the success of last year's training resources, the Education Funding Agency (EFA) has today released a series of short training videos to help academies and free schools understand how their 2015 to 2016 funding allocation will be calculated.
This online approach allows instant access to relevant information, which academies can view at a convenient time. It includes bite-size updates about different elements of schools funding. The videos are accompanied by powerpoint presentations which are also available to download for internal training purposes.
The presentations cover:
the essentials of academy funding for the 2015 to 2016 academic year
funding for free schools, UTCs and studio schools
engaging with your schools forum
the Education Services Grant - includes a worked example of the new tapered funding protection
the Minimum Funding Guarantee - including capping and scaling
funding for new openers
funding outside your General Annual Grant
We are also planning two interactive funding webinars which offer participants the opportunity to ask a panel of experts questions about next year's funding:
funding for academies: 2015 to 2016 academic year on Thursday 9 October at 2pm
funding for free schools, UTCs and studio schools on Tuesday 14 October at 2pm
Registration is open now. You can register to attend a webinar and also submit any questions you might have beforehand.
Published 26 September 2014