Press release
Abnormal loads to use Dartford Crossing
Drivers are being asked to plan their journeys as a series of slow-moving, abnormal loads will be using the Dartford Crossing as part of their journey.
This news article was withdrawn on
This document is no longer current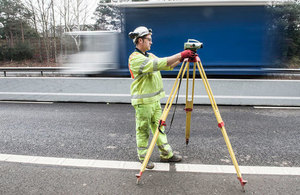 Nine transformers are being moved overnight from Littlebrook Power Station to Thamesport on the Isle of Grain in Kent over the next couple of months.
The loads are too heavy to use the A206 Cotton Lane bridge over the A282 at junction 1a and therefore will need to use parts of the A282 and its crossovers to travel from the west side of the junction to the east side.
The loads will enter the northbound A282 the wrong way, via the northbound exit slip road. They will travel northbound before then using the crossover from the northbound carriageway to the southbound, usually used when the tunnel is used for southbound traffic. The load will then exit the A282 at junction 1a using the southbound exit slip road.
The loads will be moved over a series of weekends, as follows:
Saturday 9 April
Sunday 17 April
Saturday 7 May
Sunday 15 May
Sunday 22 May
Three more movements will be required, the dates will be publicised once confirmed.
While the loads are moving across, traffic will be temporarily held. It is expected that traffic may be held for up to 30 minutes depending on the progress of the loads.
Drivers are advised to plan their journeys and allow extra time if required. The loads are expected to be crossing the A282 around 9pm, subject to traffic conditions.
Highways England provides live traffic information via its website, local and national radio travel bulletins, electronic road signs and mobile platforms, such as Android and iPhone apps.
General enquiries
Members of the public should contact the Highways England customer contact centre on 0300 123 5000.
Media enquiries
Journalists should contact the Highways England press office on 0844 693 1448 and use the menu to speak to the most appropriate press officer.
Published 18 March 2016