Press release
A45/A46 Tollbar End scheme near Coventry: overnight closures
As part of the Highways Agency's £106m investment to improve the A45/A46 Tollbar End roundabout, A45 Stonebridge Highway and Stivichall Junction, a number of overnight closures are required in the coming week.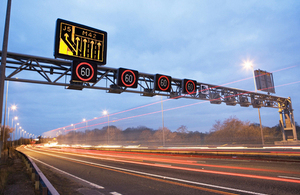 On Tuesday 6 and Wednesday 7 May the 2 mile section of the A46 southbound carriageway, between the A428 Brandon / Rugby Road roundabout (known locally as the 'TGI' roundabout) and Tollbar End roundabout, will close from 8pm until 6am the following morning. On Thursday 8 and Friday 9 the northbound section of the road will close from 8pm to 6am the following morning.
The closures are to allow the installation of a new storm water drain across both carriageways.
Senior Project Manager for the Highways Agency, Anthony Johnson, said:
We would like to thank road users for their patience during these important works.

This essential work can only be done safely with complete closures. As there is less traffic overnight, we'll be doing the closures then, but we still advise motorists to allow extra time for their journeys on these dates. The diversion routes may be unfamiliar to some drivers so we urge them to take extra care, and to drive safely.
Southbound traffic will be diverted from the A46 / A428 roundabout onto the A428, then the A4082 and onto the B4110 to Tollbar End roundabout. Northbound traffic will be diverted to follow the same route but in reverse. The diversion routes will be clearly signed.
As part of the improvement scheme, two additional measures are taking place:
This week, (Tuesday 29 April), temporary traffic lights have been installed on the southbound section of the B4110 near Tollbar End roundabout to allow the installation of a new gas main. The two-way traffic lights will be in position for three to five weeks. From time to time, testing of the new gas main will be carried out which may leave the excavation unmanned for short periods. The temporary traffic lights are expected to have minimal impact on traffic flows.
On Wednesday 7 May, as part of the works to connect a new water main at Siskin Drive, publicised to the media last week, the road layout at Siskin Drive will be tweaked to allow the current excavation in the centre of the exit from Siskin Drive to be filled, and a new excavation on the inner lane to be made. This is expected to have minimal, or no impact on traffic flows, as two lanes will remain open.
When completed, the Tollbar scheme will improve capacity, journey times and safety.
Around 45 percent of traffic will be taken from the Tollbar roundabout onto the new underpass. Access to local businesses and Coventry Airport will also be improved, as will pedestrian access at the roundabout.
To find out more about the A45/A46 Tollbar End Junction improvements visit the scheme's website or call the Highways Agency Information Line on 0300 123 5000.
General enquiries
Members of the public should contact the Highways Agency Information Line on 0300 123 5000
Media enquiries
Journalists should contact the Highways Agency press office on 0844 693 1448 and use the menu to speak to the most appropriate press officer
Published 1 May 2014