Press release
A404 Bisham junction consultation supports whole route strategy
A proposal to ease congestion at the busy A404 Bisham road junction in Berkshire is to be widened to look at improvements along the whole A404/A404(M) corridor.
This news article was withdrawn on
This document is no longer current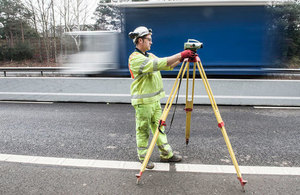 The move followed a public consultation on options to improve the A404 Bisham junction.
Responses to the consultation showed although the majority of respondents thought something should be done to alleviate congestion at the junction, there was no clear consensus on a preferred option. Feedback also showed a preference for the further work to be done investigating improvement schemes for the A404/A404M route as a whole. Proposals for a whole-route scheme for the A404/A404M will feed into developing the next Road Investment Strategy.
Surinder Bhangu, Highways England asset manager said:
We would like to thank all those who participated in the public consultation. We have listened to their extremely informative feedback which has helped us to decide that a longer term scheme, looking at the A404/A404M route in its entirety, is the best way forward.

The A404 is an important corridor between the M4 and M40 as well as for those who live and work in Bisham, Marlow, Maidenhead and beyond so we are happy to take on board feedback from these communities to ensure that the correct long-term solution to congestion on this route is found.
The public consultation was held between the 19 June 2015 and 12 September 2015 on 3 options:
option 1: A roundabout with traffic lights on certain arms
option 2: Left in/left out (no right turns onto or off the junction)
option 3: A junction with traffic lights on all arms
In addition to looking at a whole-route option, Highways England will continue to monitor the situation at Bisham Roundabout and put in remedial improvements if and when necessary.
During the 12 week consultation period, a total of 659 responses were received by Highway England. All responses were reviewed and collated.
General enquiries
Members of the public should contact the Highways England customer contact centre on 0300 123 5000.
Media enquiries
Journalists should contact the Highways England press office on 0844 693 1448 and use the menu to speak to the most appropriate press officer.
Published 30 October 2015