Press release
A14 Cambridge to Huntingdon improvement scheme on track
The £1.5bn A14 Cambridge to Huntingdon improvement scheme in Cambridgeshire is progressing well and the Highways Agency is on track to submit its Development Consent Order application this autumn. Construction work is expected to get underway in late 2016, with the road opening to traffic by the end of the decade.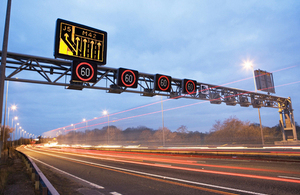 The Highways Agency intends to publish a Statement of Community Consultation (SoCC) at the end of March. This explains to the public and stakeholders when and how the formal stakeholder and community consultation will take place.
The preferred route of the scheme will be announced in the summer, ahead of the Agency submitting its final plans for the scheme to the Planning Inspectorate in the autumn.
Ian Parker of the Highways Agency's A14 Cambridge to Huntingdon project team, said:
Last year's consultation into options for the A14 scheme resulted in a huge amount of interest and a large public response. At the time, charging a toll to use the road was one of the issues we consulted on and many of the responses we received focussed on that aspect of the proposals.

The Government has listened to the views of the public, local businesses, local authorities and Members of Parliament on this issue and in December 2013 it was confirmed that the A14 would not be tolled. We now want to give people the chance to provide their detailed views on the Proposed Scheme – now un-tolled – before we make a formal announcement on the preferred route.
The pre-application consultation is due to start in April 2014 and will continue for a period of ten weeks. It will explain why the improvements are needed, present details of the proposed scheme, and seek feedback from the public on the scheme.
General enquiries
Members of the public should contact the Highways Agency Information Line on 0300 123 5000
Media enquiries
Journalists should contact the Highways Agency press office on 0844 693 1448 and use the menu to speak to the most appropriate press officer
Published 14 March 2014