Press release
A1 bridge beam lift cancelled
This week's planned bridge beam lift as part of the A1 Leeming to Barton improvements has been cancelled due to poor weather.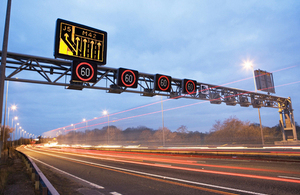 Thirty-two concrete steel beams were due to be lifted into place near Catterick today and tomorrow 27 and 28 November, as part of a new structure on this vitally important route which is being upgraded to motorway standard. We will advise drivers of our revised timings once we have rescheduled the work.
Once completed the A1 Leeming to Barton scheme will unlock growth and boost the economy by creating a continuous motorway-standard route between London and Newcastle (including the M1 and A1M). It will also improve journey times and increase safety.
When the scheme opens to traffic in 2016/17, journey times between Leeming and Barton are expected to be reduced by approximately 20 per cent, and over a sixty-year period, the improvements are predicted to save around 20 lives and prevent around 450 serious accidents. The work is also estimated to generate 750 jobs in the construction industry over three years.
General enquiries
Members of the public should contact the Highways Agency Information Line on 0300 123 5000.
Media enquiries
Journalists should contact the Highways Agency press office on 0844 693 1448 and use the menu to speak to the most appropriate press officer.
Published 27 November 2014