Celebrating 100 years of the Secret Intelligence Service, artist James Hart Dyke was invited to record their work in a series of paintings and sketches.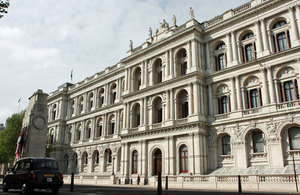 The unique project saw James working closely with SIS for a year, both in the UK and abroad.
Given the sensitivity of the work, James had to observe the need for secrecy and his access to SIS was carefully controlled. Whilst the paintings do not identify actual officers, agents, operations, or actual events*, James has managed to produce a series of images illustrating this unusual and secretive world.
This commercial exhibition, which runs from 15-27 February, is entitled; "A Year with MI6" and is being held at Mount Street Galleries, 94 Mount Street, London. It comprises 40 oil paintings and many sketches and studies. Through them, James conveys aspects of SIS's daily life. The images range from simple renderings of places to more interpretive works. Using oil paints on canvas, he creates paintings that combine abstraction and reality.
Giving his reaction to this commission, James said:
"This project has been the most exciting and challenging I have ever undertaken. To have been given the kind of access to MI6 I have been allowed has been an amazing privilege which most people can only dream of. My paintings attempt to portray a sense of everyday life for those working in SIS which is essentially about building relations with people. I've respected the need to keep identities secret and the people shown don't represent the real men and women I have met."
James Hart Dyke has not been paid by SIS for producing this artwork; the artist will receive payment through the sale of the artwork and he will donate a percentage of the profits to charity. Prices range from £950 for the sketches up to £25,000 for the largest of the oil paintings.
In his foreword to the catalogue accompanying the exhibition, Chief of SIS John Sawyers writes:
"The Secret Intelligence Service - often known as MI6 - celebrated its centenary in 2009. For over a hundred years, our people have worked around the world, in difficult conditions and often with an element of danger, to enhance the security and wellbeing of our country.
"An Official History of our first forty years was commissioned to mark the occasion and was published in 2010. I gave the first public speech by a serving Chief in October last year. All this was part of our effort to increase public understanding of what we do, and why our operations and identities of the people who work for us have to remain secret.
"Our centenary celebrations included a project with the artist James Hart Dyke to produce a series of images portraying the work of the Service. The project was largely self-financing. James enjoyed access to our staff in Britain and around the world and won their trust.
"This exhibition offers an artist's insight into the day to day work of the Service and captures the essence of what we do. We're grateful to James for his contribution to our centenary celebrations. I hope you enjoy the paintings and sketches he has produced as much as we in the in the Service have."
Published 14 February 2011